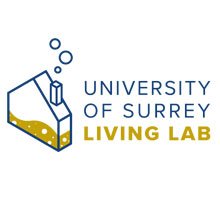 Collaborate with us
There are lots of ways to get involved with our Living Lab, whether you want to actively collaborate with us or just stay updated on our activities.
Partnerships
We already work with a number of external partners - including QinetiQ, ThamesWey Group, SSE Enterprise, Global Home and ZERO Carbon Guildford - and are keen to develop further collaborative partnerships. As a local partner you can benefit through practical projects, access to data and inform your policy development.
You can engage with our research expertise, collaborate with our academics, and access our specialist facilities and services including support with gaining funding, for example through our SME Innovation Voucher Scheme and Innovate UK funding.
Find out more about business partnership opportunities at Surrey.
If you are interested in collaborating with us, please fill in our enquiry form and we will be in touch.
Join the Surrey Energy Partnership
The Surrey Energy Partnership is an open and collaborative network for all organisations with an interest in (and impact on) clean, fair and sustainable energy. With a focus on delivering projects and action, the Partnership links to national and regional strategies, while building on local and county-wide strengths.
The aim is to help Surrey businesses, organisations and individuals benefit from the clean energy revolution and be resilient to change, while reducing our collective carbon impact. Our vision is to accelerate the transition to clean, fair and sustainable energy across Surrey and beyond.
The Surrey Energy Partnership already includes representatives from Surrey County Council, Enterprise M3, SSE Enterprise, ThamesWey Group, Surrey Climate Commission plus others.
Request to join the Partnership
Stay updated
If you would like to keep in touch with what's going on in our Living Lab, we can add you to our growing list of like-minded local community groups, businesses, stakeholders and other universities.
Get involved with the University
There are other ways you can collaborate and get involved with research expertise at the University.
You can become one of over 2,300 industry partners who participate in Surrey's Professional Training placement programme by offering a placement to an undergraduate student.
The majority of Surrey students complete a year-long Professional Training placement at a relevant organisation, usually following the second year of their degree.
You can take on a high calibre doctoral researcher through our Practitioner Doctorate in Sustainability PhD/EngD course.
This enables organisations to work closely with a selected student and our academics on a research project aimed at solving challenges within your business and building knowledge.
You can get involved in exciting research opportunities through the University's Doctoral College which was established to support the academic and professional development of postgraduate researchers and early career researchers and to ensure our world-leading research continues to grow.