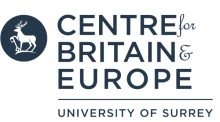 News and commentary
This section maintains a sharp emphasis on the most recent advancements in European integration, the landscape of British politics, and global relations, providing prompt analyses, stimulating commentary, and insights from field experts at the Centre for Britain and Europe (CBE).

Media
Stay in tune with UK-Europe current affairs by exploring our collection of vlogs, interviews and podcasts. Our expertise on European integration to UK defence brings you well-rounded, meaningful discussions and debates.
Stay connected
"Civil Society Organisations are essential in creating & delivering an effective, legitimate & resilient system of…
https://t.co/SJ0xL8X1ZS
04.07.23
Jeremy Pattison graduated from the University of Surrey in 2023 with an MSc in Public Affairs and was...
26.02.23
2023 in Europe started a bit tumultuous with anti-Islam and Muslim demonstrations of the radical far...