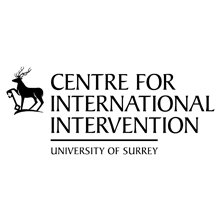 Centre for International Intervention
Operating at the intersection of academia, government, private sector and third sector, we provide a forum for research, discussion, and education around international intervention, providing an engaged yet critical perspective on intervention that promotes more effective, ethical, and sustainable intervention practice.
Study with us
Our course includes simulation-based learning to allow you to apply the conceptual challenges presented by intervention in practical contexts. With the participation of practitioners with decades of experience in the diplomatic and humanitarian sectors, you will benefit from both theoretical and applied approaches to intervention.
Our research
Our research seeks to understand how intervention is conceptualised, justified, and conducted, across four broad themes: humanitarianism, law, ethics, and geopolitics.
Stay connected
Latest tweets
@cii_surrey
07.11.19
There's a lot to consider in this general election, not least the potential for reaching a decision...
31.10.19
This piece was originally posted on Al Jazeera. If you haven't been paying too much attention to...