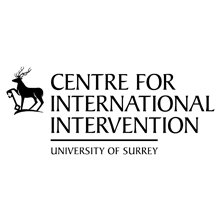 Centre for International Intervention
Operating at the intersection of academia, government, private sector and third sector, we provide a forum for research, discussion, and education around international intervention, providing an engaged yet critical perspective on intervention that promotes more effective, ethical, and sustainable intervention practice.
Study with us
We seek to help you develop your understanding of the world and give you the tools to express that.

Our research
Our research seeks to understand how intervention is conceptualised, justified, and conducted, across four broad themes: humanitarianism, law, ethics, and geopolitics.
Our staff members
Dr Nicholas Kitchen
Senior Lecturer in International Relations; Director, Centre for the Study of Global Power Competition (CGPC)
I joined Surrey in 2018 from the London School of Economics, where I had been Assistant Professorial Research Fellow in the United States Centre, Executive Director of the LSE Diplomacy Commission, and Head of Analysis at LSE IDEAS.I am a Senior Fellow of the Higher Education Academy, a Visiting Fellow at LSE IDEAS, and Treasurer and Acting Convenor of the US Foreign P...
Dr Alex Leveringhaus
Lecturer in Political Theory; Co-Director, Centre for International Intervention
I joined Surrey in January 2018 from the University of Manchester, where I was a Leverhulme Early Career Research Fellow in the Centre for Political Theory. Prior to working at Manchester, I was a post-doctoral research fellow at the Oxford Institute for Ethics, Law and Armed Conflict, University of Oxford, as well as a James Martin Fellow in the Oxford Martin School. I received...
Stay connected



Organisational archives like this will allow researchers to understand how civil society has driven intervention -…
https://t.co/iGIpb2ST7a