Our contributions to Guildford
We are the largest single organisation in Guildford Borough, a community of 20,000, which means we will always step up to be included in local debate and play our part in the solution for a cleaner, prosperous, and innovative future for our hometown.
Contributing to our Guildford community
As an integral part of the town, the University of Surrey is proud to call Guildford home. We make a valuable contribution to the wider local and regional community, working with residents, community groups, businesses and schools.
Investing in education
The Widening Participation and Outreach Department is vital to the University's work in supporting the access, success and progression of students from a range of backgrounds. The team works closely with primary and secondary schools in Surrey and the surrounding area to provide activities that build knowledge, learning confidence and introduce a range of paths to higher education.

Kings College Guildford partnership
Our formal partnership with local secondary school Kings College Guildford has entered its fourth year and has continued in its successes and evolution. 
Our annual survey measuring the impact of the partnership has shown an increase of 43 per cent since 2017 in students' motivation to work hard in order to gain a good education, as well as a 22 per cent increase in their desire to think more about their future.
Kings College Guildford is now in the top 3 per cent of most improved schools in the country and for the most improved academic performance in England.
Covid-19 support
Supporting schools is particularly important during Covid-19, school lockdowns and beyond to ensure all students whatever their circumstances can maintain their education and thrive. In 2020 the University of Surrey provided:
14 priority schools with a grant of £1,500 to ensure their disadvantaged pupils had the equipment needed to access online learning.

562 disadvantaged and vulnerable young people with a 'book bundle' while libraries were closed.

12 virtual summer schools for 270 students. Afterwards, 98 per cent said they felt confident they could study at university in the future and 96 per cent said they felt they'd belong at university.
Learn more about our contribution to Covid-19 support.
Economy, excellence and innovation

Growing economic impact
The University of Surrey creates a significant and growing impact on the economy of Guildford, Surrey and beyond. In the academic year 2021/22, the University generated: 
£1.1 billion gross value added and 14,500 jobs in the Borough of Guildford.
£1.3 billion gross value added and 17,260 jobs in the county of Surrey.
The University of Surrey Economic Impact Report, produced by independent economic consultants BiGGAR Economics, details the many different ways the University contributes to economic growth.
One way do this is through the impact of our research and innovation activities, including supporting firms with their own research and development, directly commercialising University research, and through the impact of the University's graduates. Collectively, these research and innovation activities added £194 million to the Surrey economy, and supported more than 700 jobs in the county. 
Read the University of Surrey's economic impact report 2021/22(PDF).
See also our previous economic impact report 2018/19 (PDF).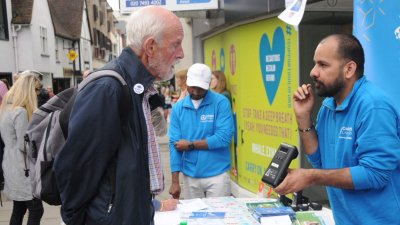 Our research
Pioneering research at Surrey brings direct, positive benefits to society across multiple sectors such as health, communications, business, and the environment. Our world leading abilities in research stretch from 5G communications through to locally applicable themes such as clean air and sustainability.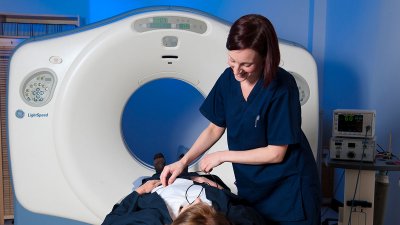 The Surrey Research Park
The Surrey Research Park was founded in 1985 and since then it has grown to cover 80 acres and currently hosts 170 companies on-site. Of these companies, 92 are directly contracted to the Park, providing 4,500 jobs. The 92 companies directly contracted to the Surrey Research Park generate over £525 million GVA for the Guildford economy each year.
Ensuring a greener future
At Surrey, we are embedding sustainability in our day-to-day operations, teaching and research on campus, whilst setting ourselves challenging targets to reduce our environmental impact and helping to drive change in the local community.

Net-Zero target
In January 2020, the University agreed to the incredibly challenging target of achieving a Net-Zero carbon target by 2030. Our plan for reaching this includes continuing to reduce our energy demand, increasing the proportion of our renewable sources and procuring our energy from renewable energy projects.
Read more about how we are fighting climate change.
Community research for greener benefits
Researchers from the North West Guildford 2030 project have been talking to Park Barn residents and working with pupils at Kings College to better understand how the area can have a better, greener future. Most recently researchers have been working with residents and stakeholders to better understand the impact of green infrastructure on wellbeing of living in the Southway area of Park Barn.
Improving Guildford's public transport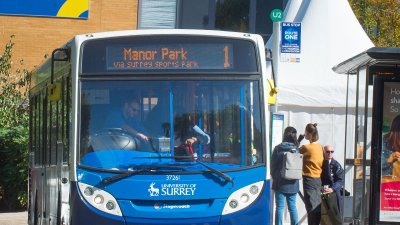 We are committed to improving access to public transport within the town. The University indirectly subsidises the local Stagecoach bus service that operates in Guildford throughout the day and late into the night.
We are actively encouraging staff and students to adopt more sustainable travel modes.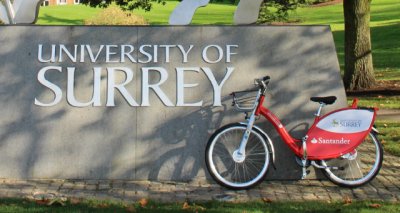 Shared bike scheme
The University has also introduced a shared bike scheme to western Guildford and remains committed to expanding this into the town for the benefit of all. We work closely with the local authorities to improve the quality and safety of the town's growing cycle network.
Tackling air pollution in Guildford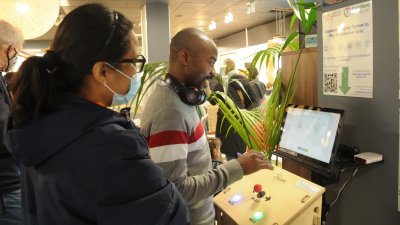 There is no doubt that parts of Guildford have a severe air pollution problem. The University's far-reaching academic contribution brings closer to home benefits to the local Guildford community.
Experts from our world-renowned Global Centre for Clean Air Research (GCARE) have investigated the impact traffic has on air quality in and around local schools and published guidance to help tackle air pollution.
Find out more about how GCARE is tackling air pollution through their Guildford Living Lab.

Working with the community
We work with local residents, community groups, businesses and schools and value the voice of our local community.