Community
We work with local residents, community groups, businesses and schools and value the voice of our local community.

Covid 19 Community Champions
University staff and students across our community are supporting the fight against Covid-19.
Here we highlight just some of their stories.
Meet our Street Marshals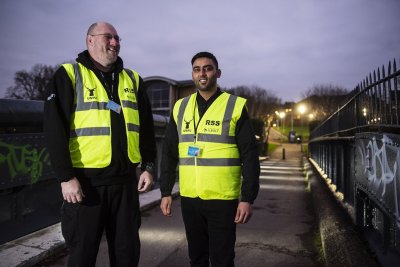 The University of Surrey Street Marshals scheme operates in areas of Guildford close to campus which have high student populations. It has the dual aims of safeguarding students as they transit through areas of Guildford at night and reducing instances of anti-social behaviour including noise. The scheme promotes positive community relationships by educating students on the issues of anti-social noise and littering, asking them to behave responsibly whilst walking through neighbourhoods.
The marshals also support vulnerable students who are in need of help after nights out in Guildford Town Centre. Each patrol consists of at least two contracted security staff experienced with working with our student community. The marshals are in constant contact with campus security, providing a highly visible presence to deter poor behaviour and reassure residents.  At busy periods there can be up to eight patrols out in Guildford coverings areas such as Walnut Tree Close, Scholars Walk, Guildford Park Road, Guildford Park Avenue, Lynwood, wider Onslow area, Southway, Beckingham Road and  the Ashenden Estate. Street Marshal Patrols are usually deployed during term time only on Monday, Wednesday and some Fridays and Saturdays 10.30pm-3.30am. 
If you have an issue with street noise attributed to students please call University security on 01483 682002 and ask if the marshals can be directed to your location. This does not affect your right to report incidents of noise, anti-social behaviour or wider crime to the Police or Guildford Borough Council as appropriate. 

Our Surrey people
The #OurSurreyPeople campaign is all about how members of our university community interact and make a difference locally.  
Ambassadors of Real Change Guildford
Real Change Guildford is a fund managed by Voluntary Action South West Surrey (VASWS) and provides practical items such as rent, clothes and training for the homeless in Guildford.
As an Ambassador, the University will promote the campaign to students and staff and encourage fundraising activities. To find out more about this initiative and others, please email publicengagement@surrey.ac.uk.