About
Welcome to the Department of Electrical and Electronic Engineering.
We are not only the largest department within the Faculty of Engineering and Physical Sciences, but also the largest at the University of Surrey, with over 50 members of academic staff, 300 undergraduate students, 100 MSc students, and more than 250 research (graduate) students. Furthermore, we have an additional 115 research staff.
Our rankings
We have been ranked 2nd in the UK for electrical and electronic engineering in the Guardian University Guide 2020.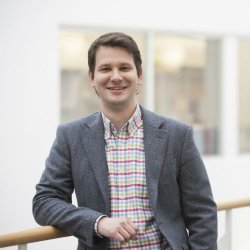 "As a Surrey undergraduate in the Department of Electrical and Electronic Engineering you have many opportunities to engage creatively from day one; our Makerspace facility and student society are a great way to go beyond the syllabus and team up with like-minded colleagues."
Dr Radu Sporea, Undergraduate Admissions Tutor for the Department
Research Excellence Framework
In the 2014 Research Excellence Framework (REF), the department was ranked second in the UK within the electrical and electronic engineering, metallurgy and materials unit of assessment for the scale and impact of its research, with 93 per cent of our research rated as world leading or internationally excellent.
Study with us
As a student here you can help build robots, satellites, mobile phones and computers. We also offer continued professional development for those looking to improve their career prospects or learn new skills.
About our department
We are proud to say that, as a department, we are consistently ranked as among the best Electronic Engineering Departments within the UK. We have extremely strong metrics in both elements of our core business, teaching and research.
As well as the professional approach of the Department, we pride ourselves on providing a supportive and friendly environment for our students. In taught courses, students at all levels have the support of a named personal tutor.
In the early stages of an undergraduate degree we provide regular timetabled meetings between students and their personal tutor, for example weekly in your first year and bi-weekly in your second year. In your third and fourth years, meetings with tutors are organised as required.
At PhD level we provide two academic supervisors, and a regular monitoring system to ensure progress and success.
We offer professionally accredited BEng, MEng, and MSc courses. Surrey is an academic partner of the IET entitling students to subsidised memberships and a number of services offered to students. Our degrees develop the knowledge and professional skills of our students, for careers that lead the future development of electronics, communications and computing technologies.
Key facts
Professional recognition