How we work towards disability and neurodiversity equality
We are committed to ensuring that our institutional values focus on creating equitable opportunities and outcomes for all groups. We have implemented an extensive Disability Action Plan to address accessibility, ease of access to support and creation of inclusive environments ensure equitable progress for all of our staff and students.
Disability Confident Scheme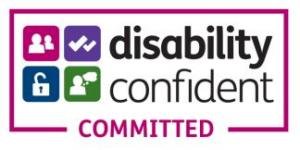 The University of Surrey is a Disability Confident Committed Employer. As a university, we are dedicated to creating an inclusive working environment that welcomes disabled applicants and enables equality of opportunity with an aim to ensure that our workforce is representative of the diverse community that we serve. 
Disability and Neurodiversity Action Plan
The University's Disability and Neurodiversity Action Plan is based on the Disability Standard, a whole-organisation disability management audit developed by the Business Disability Forum. This helps organisations measure and improve on performance for disabled customers, clients or service users, employees, and stakeholders. 
As members of the Business Disability Forum, Surrey receives in-depth, tailored support via the Advice Service and Knowledge Hub. 
Download our Disability and Neurodiversity Action Plan (Word).