---
news
Published:
08 December 2020
Standardise Best Practices about Internships (SPRINT) - unpaid internships event
My name is Zoe Drapper, and I am one of the Centre for Britain and Europe's Jean Monnet Studentship holders for 2020/2021. I am a final year politics student at the University of Surrey, and am very excited to be involved with the Centre and its work for the next academic year.
So far, there has been a range of opportunities and events to get involved in, which have hugely benefited my knowledge and experience as a politics student, such as attending online panels and discussions, rapporteuring and contributing to online content and social media.
In the near future, we are hoping to be looking into the evidence-providing process for parliamentary enquiries, using evidence contributed by research conducted by the CBE. As part of my studentship, I recently attended an online event focusing on unpaid internships in the EU and the surrounding issues, and have shared some of my thoughts on this topic below.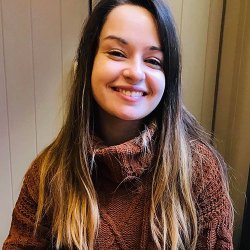 Zoe Drapper
On Tuesday 3 November, the SPRINT (Standardise Best Practices about Internships) Project and InternsGoPro led an online discussion in the context of the recent European Parliament resolution to ban unpaid internships. With over 150 attendees, a range of guests took part from a variety of different backgrounds, including staff from higher education administrations, youth NGOs, trade unions and even Members of European Parliament.
Within the current political climate of a global pandemic and consequential economic concerns, youth employment across the EU is currently seeing a crisis take shape, with both a lack of opportunities available, and those which are available being limited in terms of scope, pay and benefits. This online event brought together as part of the SPRINT project centred around the problems currently faced in terms of youth employment within the EU, and also the situation of unpaid internships and how to address these inequalities in the future.
Regarding a contemporary and increasingly relevant issue, this discussion covered a range of perspectives – from both those who have completed unpaid internships to those who have supervised them. The first session focused on the current political context of the issue, and the recent resolution passed in the European Parliament. An MEP in attendance himself presented his views on the matter, and gestured toward the frequent misconception often used to justify the existence of unpaid internships: 'But, even if the interns are not being paid, are they not gaining valuable experience?' It was pointed out that this presents a serious inequality within youth employment and in access to the labour market, as several young people who are coming straight out of education or training may not be in the position to undertake unpaid positions purely for the purpose of 'gaining experience,' due to financial concerns, but will inevitably face barriers in the employment market as a result of several industries requiring previous experience before hiring. It was also questioned in the event – as it is regularly in other conversations on the subject – why it is that employers in the current day and age do not feel that young people who have finished their time in education are ready to enter the world of work, and must complete a period of unpaid work to be so. This opinion was shared among several others within the discussion, such as representatives from youth NGOs and from various administrations of higher education. The European Commission has been in the process of launching several new reports surrounding the issue, the recent European Parliament resolution and future potential developments, but it was noted during the discussion that due to the current COVID-19 pandemic, more immediate changes are most likely not possible. It was however pointed out that arguably the new resolution eventually needs to be transformed into something which can be put into individual EU Member State legislation, and that in the future, unpaid internships should become a thing of the past.
The later session was led by youth NGOs including but not limited to EURASHE, the European Youth Forum and the Adecco Group, who presented a criteria for 'Quality Internships' in the EU which they hope to be adopted in the future, known as the 'European Pre-Standard for Quality Internships'. Others involved in this discussion of criteria and standardisation of processes included UNISER, the ETUC Youth Committee, AFNOR Normalisation and the French Ministry of Education. This criteria covered a range of different areas stemming from best practices within internships – both from the perspective of interns themselves, but more importantly the providers – including recruitment, written agreements, remuneration, skills acquisition, tutoring, development, working environments and social protection. Each of these covered the different parties and processes involved in offering/completing internships, and used best practices to form suggestions around improvements and criteria to be implemented for each area. Several groups presented a range of interesting perspectives on this, and as part of the SPRINT project, hope to work with the European Parliament to move to completely ban unpaid internships within the EU, and to implement their 'Pre-Standard for Quality Internships' across European Member States.
Overall, this was an incredibly engaging and well-attended event, with key discussions around pivotal issues affecting people from several different backgrounds across the EU. From the perspective of a student who has looked to access certain internships within the EU myself, this event offered a passionate perspective on the subject - and its drive for change created a sense of what could almost be described as hope, that barriers and inequalities around accessing internships  may decrease in the future. Discussions which took place throughout the event suggest that the youth employment market in the EU may be at a pivot point in terms of addressing these inequalities, due to the previous European Parliament resolution and the newly formed criteria for 'Quality Internships' which we should hopefully see implemented not too far in the future.