---
press release
University of Surrey student team has "out of this world" success with lunar rover
A University of Surrey student team has won first prize at the first UK Students for the Exploration and Development of Space (UKSEDS) Lunar Rover Competition, after successfully designing, constructing and testing a Lunar Rover.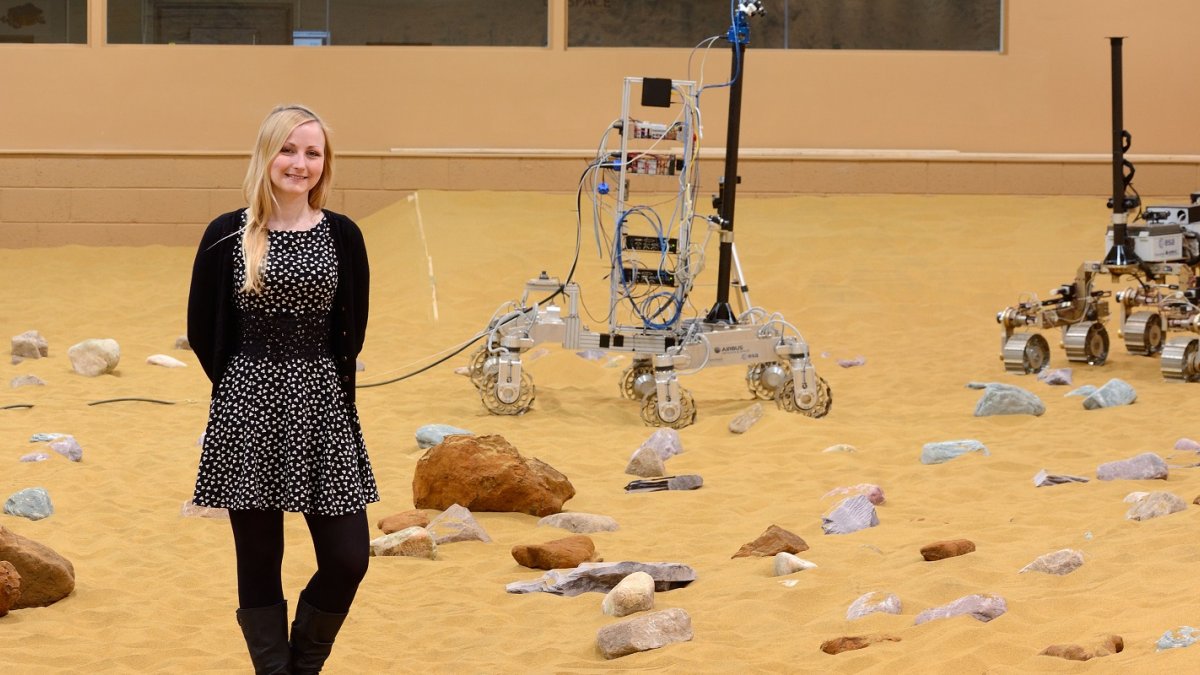 The group of students, through the University of Surrey's Electronics and Amateur Radio Society (EARS), was one of five undergraduate teams from across the UK this week to reach the final stage of the Lunar Rover Competition. The team was formed of UG/MSc students from Electronic Engineering, Physics and Space Pathway programs, including University of Surrey student Pete Blacker (SSC PhD).
The teams also had to pass a comprehensive review panel by space industry engineers from Thales Alenia Space in the UK, the Science and Technology Facilities Council's RAL Space facility and Oxford Space Systems. Their success also unlocked funding to help teams build their rovers. 
Professor Yang Gao, who is Professor of Space and Autonomous Systems at the University of Surrey and the General Chair of Towards Autonomous Robotics Systems (TAROS), said: "We're very pleased to congratulate Pete and the University team for winning this prize. All the students' efforts have been impressive and it's a proud day for us all. I can't think of better news to hear, with our university hosting the TAROS 2017 Conference this week as well."
The student team said: "SurreyEARS is thrilled to have come first place. It was great to see all our hard work pay off, and the development process has given us an excellent insight into the technicalities of the space industry and was a very rewarding learning opportunity.
"We look forward to continuing to develop what we've created, and we will be using our rover as the basis of outreach activities for our society and the University."
The challenge is based on a potential future robotic mission to a crater on the Lunar South Pole. Each team's rover had to drive through rough terrain to the bottom of the crater to collect and test ice samples.  As in a real mission, the students' rovers were remotely operated with cameras to navigate rocks, steep slopes, and survive the rigorous vibrations of a simulated rocket launch.
As well as meeting these technical challenges, the students had to successfully present their designs to a range of space engineering experts at industry standard review panels.
The teams' designs were tested at the robotics trials area at STFC's RAL Space facility in Harwell, Oxfordshire. The awards, provided by Thales Alenia Space in the UK, were presented to the teams who best completed the objectives, and to the team who performed the best at the industry review panels.  
Inspired by past and future missions from NASA and the European Space Agency, the competition challenges undergraduate students to solve engineering problems, using industry-standard techniques, tools and processes.
Media Contacts
---
External Communications and PR team
Phone: +44 (0)1483 684380 / 688914 / 684378
Email: mediarelations@surrey.ac.uk
Out of hours: +44 (0)7773 479911