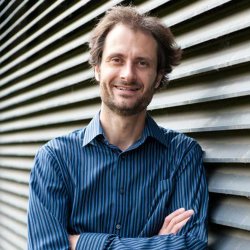 Dr Daniel Whelligan MSci, PhD
---
Senior Lecturer in Organic/Medicinal Chemistry
About
Biography
Daniel Whelligan gained a MSci degree in Natural Sciences from the University of Cambridge (Churchill College) in 2000. After graduation, he spent the summer at Université Bordeaux I, France carrying out organic synthesis in the group of Professor Stephane Quideau. He then moved to the University of Durham for his PhD with Dr Patrick Steel on the use of silenes (Si=C) in novel organic synthetic methods. In 2004, he secured an Alexander von Humboldt Postdoctoral Research Fellowship to work on the use of paracyclophanes in asymmetric catalysis with Professor Carsten Bolm at RWTH Aachen University, Germany. From 2006-7, he took time to travel around the world including a 3 month postdoctoral research placement with Professor Mark von Itzstein at the Institute for Glycomics, Griffith University, Australia. On return to the UK, Daniel worked from 2007-10 at the Institute of Cancer Research (ICR) as a Postdoctoral Training Fellow in Medicinal Chemistry in the group of Dr Swen Hoelder on the discovery of inhibitors of cancer targets. In 2011 he was appointed as Lecturer of Organic/Medicinal Chemistry at the University of Surrey.
University roles and responsibilities
Departmental Assessments Officer (2019 - present)

MSc Drug Discovery Programme Director (2011 - 2015)

MRes Chemistry Programme Director (2015 - 2019)
Affiliations and memberships
Research

Research interests

The Whelligan group uses organic synthesis to answer questions and solve problems in biology and alkaline fuel cell and electrolyser research. For biology, this includes drug discovery and the design of inhibitors and probes for use as investigational tools. During this research, opportunities to develop novel synthetic methods are exploited. Major projects are described below:

Research projects

Design and Discovery of Inhibitors of the DNA Repair Enzyme Aag

The Mechanism of Action of Mycolactone, Causative Agent of Buruli Ulcer

Alkaline Fuel Cells and Electrolysers: Design and Synthesis of Novel Membrane Head Groups

Ethoxyvinylarenes as Versatile Intermediates for Heterocycle Synthesis

 Research Group and FacilitiesCurrent PhD Students

Thomas Warren (3rd year)

Jacob Hiles (2nd year)

Isobel Beard (1st year)

Nermin Ener (1st year)

Applications for PhD Studentships

Any funded PhD studentships that become available will be advertised on the University of Surrey Chemistry PhD website. Applications from self-funded or overseas government-funded students are welcome. Please email Daniel Whelligan in the first instance.

Facilities

All organic synthesis is carried out in the recently refurbished Joseph Kenyon laboratory containing 24 state-of-the-art double fume cupboards, spectroscopy suite and cold room. The lab was shortlisted for the 'Safe, Successful and Sustainable Laboratory Award 2014' and is equipped with all necessary equipment for normal and air-sensitive organic chemistry.

The Department possesses 500 and 400 MHz NMR spectrometers, an Agilent 6550 QToF LCMS and several LCMS, GCMS, IR and UV-Vis instruments.
Teaching
Teaching
Lecture notes, recordings, coursework, supplementary videos and quizzes are available on SurreyLearn.
Level 4 (Year 1) Degree-level learning and strategies
Level 4 (Year 1) CHE1041 Organic Structure, Reactivity and Functional Groups
Level 5 (Year 2) CHE2044 Organic Carbon-Carbon Bond Formation and Heterocyclic Chemistry
Level 5 (Year 2) CHE2037 Bioorganic Chemistry and Drug Discovery
Level 6 (Year 3) CHE3061 Organic Chemistry and Spectroscopy
Level 6 (Year 3) CHE3062 Medicinal Chemistry
Level 6 (Year 3) CHE3055 Topics in Forensic Science
Level 7 (Year 4) CHEM036 Advanced Organic Synthesis
Level 7 (Year 4) CHEM037 Advanced Medicinal Chemistry
Level 7 (Year 4) CHEM034 Advanced Methods in Forensic Investigation