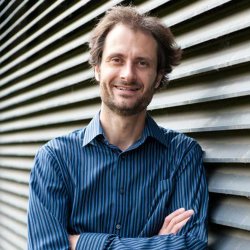 Dr Daniel Whelligan MSci, PhD
---
Senior Lecturer in Organic/Medicinal Chemistry
Biography
Daniel Whelligan gained a 1st class MSci degree in Natural Sciences from the University of Cambridge (Churchill College) in 2000. After graduation, he spent the summer at Université Bordeaux I, France carrying out organic synthesis in the group of Professor Stephane Quideau. He then moved to the University of Durham for his PhD with Dr Patrick Steel on the use of silenes (Si=C) in novel organic synthetic methods. In 2004, he secured an Alexander von Humboldt Postdoctoral Research Fellowship to work on the use of paracyclophanes in asymmetric catalysis with Professor Carsten Bolm at RWTH Aachen University, Germany. From 2006-7, he took time to travel around the world including a 3 month postdoctoral research placement with Professor Mark von Itzstein at the Institute for Glycomics, Griffith University, Australia. On return to the UK, Daniel worked from 2007-10 at the Institute of Cancer Research (ICR) as a Postdoctoral Training Fellow in Medicinal Chemistry in the group of Dr Swen Hoelder on the discovery of inhibitors of cancer targets. In 2011 he was appointed as Lecturer of Organic/Medicinal Chemistry at the University of Surrey.
University roles and responsibilities
Departmental Assessments Officer
Affiliations and memberships
Research
Research interests
The Whelligan group uses organic synthesis to answer questions and solve problems in biology and alkaline fuel cell and electrolyser research. For biology, this includes drug discovery and the design of inhibitors and probes for use as investigational tools. During this research, opportunities to develop novel synthetic methods are exploited. Major projects are described below:
Design and Discovery of Inhibitors of the DNA Repair Enzyme Aag
The DNA repair enzyme Aag (Alkyladenine glycosylase) locates and excises alkylated or oxidatively damaged DNA bases (orange in the video, right) and thus initiates the base excision repair (BER) pathway. However, through mouse Aag knockout and overexpression studies, it has been shown that in photoreceptor, spleen, thymus, bone marrow, pancreatic β and cerebellum cells, the action of Aag in response to DNA alkylation (by MMS) leads to cell death. A small molecule inhibitor of Aag is required for use as a tool in further investigations of the biological mechanisms which mediate this cell death. Furthermore, since humans show varying levels of Aag activity and may encounter alkylating agents naturally, from the diet, pollution or as part of chemotherapy, an inhibitor may form a drug discovery lead for diseases or situations where the action of Aag may be leading to tissue degeneration.
We are engaged in Aag inhibitor discovery via two routes, both of which now follow the discovery cycle shown in Fig. 2:
Target-based design: Using computational virtual screening, purchase and bioassay of the top 49 predicted inhibitors we have identified a 'hit' on which we are basing more effective inhibitors.
Ligand-based design: DNA oligomers containing modified nucleotides have been shown to inhibit Aag. Based on these and their published crystal structures (Fig. 1), we have designed potential small molecule inhibitors and are engaged in their synthesis and bioassay.
For a talk to a multidisciplinary audience on this project, see the MILES Showcase Presentation.
This work was supported by a Royal Society Research Grant [RG140689].
This work was supported by the Engineering and Physical Sciences Research Council [grant number EP/I000992/1].
References
E. Mas, B. Al Yahyaei, S. Chu, R. Elliott, M. Imperato, A. Lopez, L. B. Meira, B. J. Howlin, D. K. Whelligan, Bioorg. Med. Chem. 2020, 28, 115507.
Meira, L. B.; Moroski-Erkul, C. A.; Green, S. L.; Calvo, J. A.; Bronson, R. T.; Shah, D.; Samson, L. D. Proc. Natl. Acad. Sci. 2009, 106, 888.
Calvo, J. A.; Moroski-Erkul, C. A.; Lake, A.; Eichinger, L. W.; Shah, D.; Jhun, I.; Limsirichai, P.; Bronson, R. T.; Christiani, D. C.; Meira, L. B.; Samson, L. D. PLoS Genet. 2013, 9, e1003413.
Setser, J. W.; Lingaraju, G. M.; Davis, C. A.; Samson, L. D.; Drennan, C. L. Biochemistry 2012, 51, 382.
Ethoxyvinylarenes as Versatile Intermediates for Heterocycle Synthesis
Azaindoles (4) find widespread use in drug discovery yet methods which permit access to all possible regioisomers are limited and their purchase is costly. Whelligan et al previously published a two-step synthesis of all regioisomers from chloro- or bromo-aminoarenes which involves Suzuki coupling with ethoxyvinylborolane 2, to give an ethoxyvinylarene 3, followed by acid-mediated cyclisation. We are now investigating the versatility of the ethoxyvinylarenes 3 in terms of producing substituted azaindoles or tricycles in one step.
References
Popowycz, F.; Mérour, J.-Y.; Joseph, B. Tetrahedron 2007, 63, 8689.
Popowycz, F.; Routier, S.; Joseph, B.; Mérour, J.-Y. Tetrahedron 2007, 63, 1031.
The Mechanism of Action of Mycolactone, Causative Agent of Buruli Ulcer
Buruli ulcer is a slow-growing, necrotising skin disease found predominantly in patients in rural areas of developing countries, particularly in Western Africa. It can cover >15% of a patient's body and cause permanent disability. It is caused by the microbial pathogen Mycobacterium ulcerans which secretes mycolactone A/B, the sole cytopathic toxin known to date. Importantly, no acute inflammatory response is mediated to the infection and this has been found to be partly due to the immunosuppressive activity of mycolactone A/B. Our ongoing mechanistic studies involve the synthesis of mycolactone A/B probe molecules.
We are also investigating improved methods for the isolation and purification of mycolactone A/B and mycolactone F (a fatty acid chain analogue) from cultures of M. ulcerans and M. marinum (a fish pathogen), respectively.
References
S. F. Gerard; B. S. Hall; A. M. Zaki; K. A. Corfield; P. U. Mayerhofer; C. Costa; D. K. Whelligan; P. C. Biggin; R. E. Simmonds; M. K. Higgins, Mol Cell 2020, 79, 406-415 e407.
Hall, B.; Hill, K.; McKenna, M.; Ogbechi, J.; High, S.; Willis, A. E.; Simmonds, R. E. PLoS Pathog. 2014, 10(4), e1004061.
Hong, H.; Stinear, T.; Porter, J.; Demangel, C.; Leadlay, P. F. ChemBioChem 2007, 8, 2043.
Alkaline Fuel Cells and Electrolysers: Design and Synthesis of Novel Membrane Head Groups
Fuel cells that use proton exchange membranes as their electrolyte are well established but the alternative, employing alkaline anion exchange membranes (AAEMs), offer advantages including the use of cheaper, non-platinum metals as the electrocatalysts (anode and cathode). The same is true for electrolysers (figure right) which can be used to generate hydrogen from water or convert CO2 into useful chemicals (we are part of the SelectCO2 EU consortium). We aim to overcome the two main disadvantages that AAEMs have compared to proton exchange membranes: 1. the lower conductivity of hydroxide ions and, 2. chemical instabilities of the membranes in the presence of hydroxide. To this end, we design and synthesise small organic molecules for radiation grafting into membranes and conversion into cationic head groups. This provides novel AAEMs with improved properties.
References
This work has been, and is supported by the following grants:
Research Group and Facilities
Current PhD Students
Efi Mavrogiannaki (3rd year)
Tom Warren (2nd year)
Jacob Hiles (1st year)
Applications for PhD Studentships
Any funded PhD studentships that become available will be advertised on the University of Surrey Chemistry PhD website. Applications from self-funded or overseas government-funded students are welcome. Please email Daniel Whelligan in the first instance.
Facilities
All organic synthesis is carried out in the recently refurbished Joseph Kenyon laboratory containing 24 state-of-the-art double fume cupboards, spectroscopy suite and cold room. The lab was shortlisted for the 'Safe, Successful and Sustainable Laboratory Award 2014' and is equipped with all necessary equipment for normal and air-sensitive organic chemistry.
The Department possesses 500 and 400 MHz NMR spectrometers, an Agilent 6550 QToF LCMS and several LCMS, GCMS, IR and UV-Vis instruments.
My teaching
Teaching
Lecture notes, coursework, supplementary videos and documents are available on SurreyLearn.
Level 5 (Year 2) CHE2037 Bioorganic Chemistry and Drug Discovery
Level 6 (Year 3) CHE3043 Topics in Organic Chemistry
Level 6 (Year 3) CHE3049 Medicinal Chemistry II
Level 7 (Year 4) CHEM025 Advanced Topics in Organic Chemistry
Level 7 (Year 4) CHEM032 Advanced Medicinal Chemistry