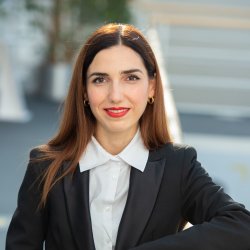 Lydia Milly Certa
---
Postgraduate Research Student and Sustainability Fellow at the Institute for Sustainability
About
My research project
Discourses on Climate Change and multi-stakeholder engagement

Grand Challenges (from now on GCs) such as climate change, hunger, water scarcity poverty, inequality (Ferraro et al 2015; George et al. 2016; Scherer and Voegtlin, 2020), human rights (Schwoon et al 2022), Covid19 pandemic (Bertello et al. 2021, Schwoon et al 2022) just to name a few, are global and societal unresolved problems that, because of their complexity, demand for collective actions to be addressed. As George et al. (2016) put it "GCs, by their very nature, require coordinated and sustained effort from multiple and diverse stakeholders toward a clearly articulated problem or goal" (George et al., 2016: 1881). Due to GCs very nature as complex, whose consequences are difficult to predict, and carrying a multi-layered set of interests and concerns (what Ferraro et al. 2015 name the three Analytic Facets of Grand Challenges: Complex, Uncertain and Evaluative), GCs do not have a single, predetermined
solution, they need multistakeholder and multidisciplinary approaches to generate fresh unconventional ideas able to unhinge these issues (Eisenhardt et al., 2016).

Climate Change which has been argued to be a problem that has to be solved through collective efforts, is one of the GCs of our time. It is no longer possible to deny its impacts as human beings are increasingly experiencing the dramatic effects of Climate Change.

The formal discourse of Climate Change is articulated by institutions, such as the United Nations (UN), that aim at articulating the problem and finding potential solutions through annual meetings: in the context of Climate Change, these are called Conferences of Parties (abbr. COP). COPs are 2 weeks yearly events bringing together different stakeholders such as country delegates, civil society, NGOs, private companies, and media to define multilateral agreements. 

The project aims at investigating how Climate Change discourses are articulated by different stakeholders, what role emotions play in this process and how emotions can influence engagement. 

Supervisors
Lydia Milly Certa is a PhD student in the department of Digital Economy, Entrepreneurship and Innovation at Surrey Business School. She has a BA in Language Mediation and MA in Languages and Cultures for international Communication and Cooperation at University of Milan (Italy).
Her research interests revolve around institutional processes and the role of emotion within them. Her research focuses on Sustainability and Climate Change discourses and governance. She is also interested in delegitimation phenomena such as fake news on social media platforms
In addition to that, she is a Sinologist and she has studied Chinese language at Beijing Language and Culture University and Tianjin Normal University (China).
Research

Research interests

Sustainability, Climate Change governance, Climate Change discourse, Fake news, Institutional Theory, CSR, Business Ethics.
Teaching
Teaching Assistant Business Ethics (MAND1090)
Publications
Additional publications
British Academy (2022), Fighting Fake News: Online Disinformation in Covid Times, The British Academy, London
Certa, L.M., Castello, I. (2023) Tempering Emotional Energy in Field Configuring Event through Input and Output Symbolization (conference paper accepted in EGOS 2023)
Joachim, M., Certa, L.M., Castello, I. (2023) The thrill of the fight: Emotional regulation to debunk fake news online (conference paper accepted in EGOS 2023)