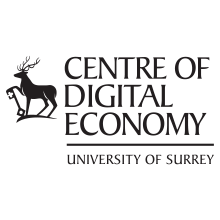 Centre of Digital Economy
The digital economy changes how we work, how we compete, how we organise and how we innovate.
At the Centre of Digital Economy (CoDE), we drive forward joint projects in order to leverage the opportunities created by the digital economy to enhance society and enrich human life. We also push the boundaries of knowledge and management practice in the digital economy through our cutting-edge research and our deep engagement with business and government.
Research themes
To generate insights on the digital economy, we need bold vigorous research from multiple disciplines. Our research sheds light on the social, technological, economic, managerial, organisational, political, and ethical implications of the digital economy.
Publications
Our publications reflect the evolution of the digital economy and contribute critical insights that assist decision makers and researchers alike.
Stay connected
Come work with us! 🚀 Check this vacancy for a Professor position in Digital Economy Closing Date: Sunday 12 Septemb…
https://t.co/MbrMsfcXVQ
We are hiring!! Two new full positions have opened in the Department for Digital Economy, Entrepreneurship and Inno…
https://t.co/WMUjPDdUDp