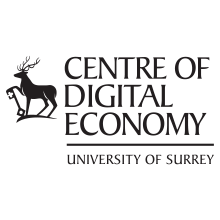 Centre of Digital Economy
The digital economy changes how we work, how we compete, how we organise and how we innovate.
At the Centre of Digital Economy (CoDE), we drive forward joint projects in order to leverage the opportunities created by the digital economy to enhance society and enrich human life. We also push the boundaries of knowledge and management practice in the digital economy through our cutting-edge research and our deep engagement with business and government.
Featured research projects
The project will analyse the strategies of three organisations to fight disinformation and anti-vaccination discourses online. It is an international project, comprising researchers from universities in France, Italy, and the UK. 
Principal investigator: Dr Mahdi Tavalaei

Research themes
To generate insights on the digital economy, we need bold vigorous research from multiple disciplines. Our research sheds light on the social, technological, economic, managerial, organisational, political, and ethical implications of the digital economy.

Resources
Our virtual seminars explore the broad economic, organisational, and behavioural changes brought about by the advance and spread of digital technology.