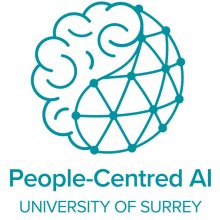 Surrey Institute for People-Centred Artificial Intelligence (PAI)
Our pan-university institute brings together Surrey's core AI-related expertise in vision, speech and signal processing, computer science, and mathematics, with its domain expertise across engineering and physical sciences, human and animal health, law and regulation, business, finance and the social sciences.
Welcome to our new Surrey Institute for People-Centred AI
We are delighted to introduce the Surrey Institute for People-Centred AI – a new approach that puts people at the heart of AI, augmenting human capabilities to deliver an inclusive and responsible force for good.
A Royal reception for the announcement of our ground breaking pan-University Institute was hosted by the Chancellor of the University of Surrey, His Royal Highness The Duke of Kent, by kind permission of Her Majesty The Queen. The drinks reception for distinguished friends of the University took place at St James's Palace on Tuesday 2 November 2021.
The new Institute will work in partnership with industry, the public sector, government and national AI organisations to deliver a step-change in AI research, training and innovation to deliver the knowledge and skills required to ensure UK leadership of an inclusive and responsible AI-driven economy.
Join us in this new chapter for Artificial Intelligence - putting people at the heart of AI.

Join our new Surrey Institute for People-Centred AI
The newly-formed pan-university AI Institute at the University of Surrey offers a unique environment to help shape the future of AI as part of a community of co-creators, and as part of that we are building a unique team with 12 new academic appointments at lecturer, senior lecturer or reader level.
​​National importance
In contrast to other national AI initiatives, the Surrey Institute for People-Centred AI brings together practitioner domain knowledge with AI expertise. Our Institute timely addresses the national importance of AI for the benefit of society and the economy as recognised in the government's new AI strategy 'new ten-year plan to make the UK a global AI superpower' launched in September 2021.
Our vision also addresses the government's industrial strategy 'AI and the Data Economy' for critical sectors of the UK economy such as creative industries, health care and security.
AI training
We have a Centre for Doctoral Training in AI and Machine Perception which provides an enhanced PhD research and training programme in collaboration with industry. We also offer a wide spectrum of undergraduate and postgraduate courses including taught modules and project work in AI, data science, machine learning and robotics.