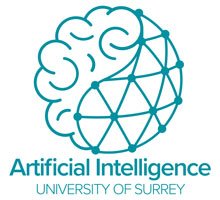 Study
The University of Surrey offers a wide spectrum of undergraduate and postgraduate courses including taught modules and project work in AI, data science, machine learning and robotics.
Find a course
We have a Centre for Doctoral Training (CDT) in AI and Machine Perception which provides an enhanced PhD research and training programme in collaboration with industry. The CDT supports interdisciplinary AI research from fundamental theory through to practical application led by research groups across the AI@Surrey network.
AI@Surrey Summer School
The AI@Surrey Summer School provides a multidisciplinary introduction to AI aimed at undergraduate and postgraduate students considering PhD research or a career in industry.