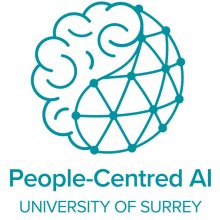 Training, developing talent and upskilling
Our Surrey Institute for People-Centred AI offers a wide spectrum of undergraduate and postgraduate courses including taught modules and project work in AI, data science, machine learning and robotics.
AI training at Surrey
AI-based machines and systems are performing tasks across an ever-increasing variety of fields, often faster and at a fraction of the cost of their human competition. Far from being limited to manual labour, today's machines are diagnosing disease, keeping us safe both online and in the physical world, practicing law, and even creating art. Intelligent automation is the future – the economics are too compelling for any other outcome – and the role of research is to capitalise on the myriad opportunities AI offers, to predict and solve challenges along the way, and to ensure future AI systems are fair and explainable.
The University of Surrey leads on both the fundamental artificial intelligence theory – pioneering new machine learning algorithms and the understanding of black box AI systems – and the application of AI for the benefit of society through healthcare, security, education and entertainment.
We have a Centre for Doctoral Training in AI and Machine Perception which provides an enhanced PhD research and training programme in collaboration with industry. The Centre supports interdisciplinary AI research from fundamental theory through to practical application led by research groups across our network of staff.
PhD studentships for people-centred AI
Anaerobic Digestion Process Modelling, Optimisation, and Control using Artificial Intelligence
Funding information:
Full tuition fee waiver p.a. (UK students) and stipend at UKRI rates p.a. (£18,622 for 2023-24).
Uncertainty quantification in computer vision and natural language processing for medical imaging
Funding information:
UK/International tuition fee + UKRI stipend at £18,622 p.a. (2023/24 rate) + Research Training Support at £1,000 p.a. + Personal Computer (provided by the Department).
Undergraduate and postgraduate study
Summer schools and workshops
Our summer school provides a multidisciplinary introduction to AI aimed at undergraduate and postgraduate students considering PhD research or a career in industry.