A Phase 2 trial of a 6-week treatment schedule of neoadjuvant nivolumab and ipilimumab in operable MSI high or POLE exonuclease domain mutant colon cancer (CRC).
Start date
01 December 2017
Team
Principal investigator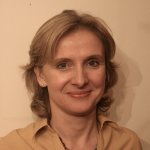 Dr Agnieszka Michael
Associate Professor in Oncology , Consultant Medical Oncologist, Medical Director of Surrey CTU
Biography
Dr Agnieszka Michael MRCP PhD is an Associate Professor in Oncology. She joined University of Surrey in 2008 and at the same time was appointed a medical oncology consultant at the Royal Surrey NHS Foundation Trust. She has a research interest in ovarian and urological cancers as well as immunotherapy trials. Dr Michael qualified in medicine at University of Wroclaw and undertook general medical and oncology training in UK, at the St George's Hospital in London , Royal Marsden Hospital and Guy's and St Thomas' Hospital. In 2006 she was awarded a PhD for research in cancer immunotherapy and completed Specialist Training in Medical Oncology in 2007. Throughout her training and current post Dr Michael has worked in the cancer clinical trials' field, including early phase studies with novel immunotherapy agents, gene therapy and cancer vaccines as well as international multi-centre phase III and IV studies, as a Chief investigator and a local principal investigator. Dr Michael is a Medical Director for Surrey Clinical Trials Unit and a Cancer Lead for Kent Surrey And Sussex Clinical Research Network.
Research themes
Find out more about our research at Surrey: