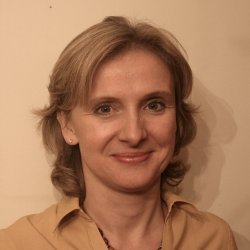 Dr Agnieszka Michael
---
Reader in Oncology , Consultant Medical Oncologist
PhD MRCP
Biography
Biography
Dr Agnieszka Michael MRCP PhD is a Reader (Clinical) in Medical Oncology. She was appointed as a Clinical Senior Lecturer and Consultant Medical Oncologist at the University of Surrey and Royal Surrey County Hospital in 2008. She has a specialist interest in ovarian and urological cancers as well as immunotherapy trials. Dr Michael qualified in medicine at University of Wroclaw and undertook general medical and oncology training in UK, at the St George's Hospital in London , Royal Marsden Hospital and Guy's and St Thomas' Hospital. In 2006 she was awarded a PhD for research in cancer immunotherapy and completed Specialist Training in Medical Oncology in 2007. Throughout her training and current post Dr Michael has worked in the cancer clinical trials' field, including early phase studies with novel immunotherapy agents, gene therapy and cancer vaccines as well as international multi-centre phase III and IV studies, as a Chief investigator and a local principal investigator. Dr Michael is a divisional lead for cancer within Kent, Surrey and Sussex 'Clinical Research Network and since 2015 has been working as a Medical Director for Surrey Clinical Trials Unit.
Research interests
Cancer Clinical Trials
Ovarian Cancer, Kidney Cancer , Immunotherapy
News
In the media
We had a great time visiting Dr Agnieszka Michael at The University of Surrey today. She explained her research looking into nutrition for women with a bowel obstruction and how she hopes that it can provide a simple way to improve the quality of life for these women. Read more about her research - http://www.targetovariancancer.org.uk/…/edmond-diet-and-nut…
Research
Research interests
My research is focused on patients' interests and care, mainly in the field of ovarian, kidney and prostate cancer. I lead on a number of clinical trials of treatment with new  chemotherapy and immunotherapy agents. I am also interested in the management of chemotherapy toxicities in the context of frailty. l supervise several PhD students and oversee research in new biomarkers in ovarian cancer, particularly HOX genes and their targeting, ovarian cancer vaccines as well as prostate cancer .  
Research projects
EDMONd – A feasibility study of Elemental Diet as an alternative to parenteral nutrition for patients with inoperable Malignant bowel Obstruction
Malignant bowel obstruction is common in patients with ovarian cancer and often inoperable. Nutritional support for patients with inoperable bowel obstruction (IBO) is challenging. Parenteral feeding (PN) is the recommended route however it is not widely available.
Elemental diet (ED) provides nutrition in the form of amino acids and easily digestible nutrients that are almost totally absorbed in the upper small intestine. It could provide an alternative to PN.
Aims The aim of the proposed research is to determine whether ED is an acceptable form of nutrition in patients with IBO.
The study will assess whether ED:
1. Is tolerated – with regards to the taste, prevalence of nausea, episodes of abdominal pain and worsening of symptoms of obstruction
2. Has a positive impact on quality of life
3. Can meet some of the patients' nutritional requirements
The role of Electronic Frailty Index in improving outcomes for newly diagnosed Cancer patients undergoing systemic Chemotherapy treatment
Diagnosis of cancer is a fearful event for most people. It is a common occurrence and adequate information and provision of the best treatment can not be underestimated. 
Our health can be affected by cancer itself and a range of other conditions and it is really important that we balance the side effects of cancer treatment against the harms it can cause. We know from several studies that clinicians struggle with adequate assessment of older people living with frailty and with cancer and offer less aggressive treatment even if they are not frail. We also know that many frail and older patients suffer multiple side effects of treatment and sometimes die as a result of the treatment itself. This approach leads to older patients with cancer living shorter lives.We need an improved way of assessing frail patients with cancer. We believe it is possible to use a score that can be calculated from medical records that will help us to better estimate the risks of chemotherapy. This score is known as electronic frailty index and has been useful in general practice. Electronic frailty index is now automatically calculated by GPs from electronic medical records. To validate this type of score in cancer we are conduction a research project in 2 parts. The first part will look at the information we can obtain form historical chemotherapy records as well as GP databases. We also plan to interview patients, carers and clinical teams to make sure such approach is acceptable to them and that they would be prepared to use it in clinical practice. In part 2 of the project that will follow in the future we plan to run a large clinical trial and test the electronic frailty
index in patients who are referred for chemotherapy treatment. We believe that it will give both patients and clinicians more information and help them make the right decision regarding cancer treatment. In the long term this project has the potential to improve lives of frail patients with cancer.
 
My publications
Publications
Fine-mapping of prostate cancer susceptibility loci in a large meta-analysis identifies candidate causal variants. Dadaev T., Saunders EJ, Newcombe PJ, et al. Nat Commun. 2018 Jun 11;9(1):2256. doi: 10.1038/s41467-018-04109-8.
 Randomized Phase III Trial of Adjuvant Pazopanib Versus Placebo After Nephrectomy in Patients With Localized or Locally Advanced Renal Cell Carcinoma. Motzer RJ, Haas NB, Donskov F, Gross-Goupil M, Varlamov S, Kopyltsov E, Lee JL, Melichar B, Rini BI, Choueiri TK, Zemanova M, Wood LA, Reaume MN, Stenzl A, Chowdhury S, Lim HY, McDermott R, Michael A, Bao W, Carrasco-Alfonso MJ, Aimone P, Voi M, Doehn C, Russo P, Sternberg CN; J Clin Oncol. 2017 Sep 13:JCO2017735324. doi: 10.1200/JCO.2017.73.5324. [Epub ahead of print]
Genome-Wide Meta-Analyses of Breast, Ovarian, and Prostate Cancer Association Studies Identify Multiple New Susceptibility Loci Shared by at Least Two Cancer Types. Kar SP, Beesley J, Amin Al Olama A, Michailidou K, Tyrer J, Kote-Jarai Z, Lawrenson K, Lindstrom S, Ramus SJ, Thompson DJ; ABCTB Investigators, Kibel AS, Dansonka-Mieszkowska A, Michael A, Dieffenbach AK et al  Cancer Discov. 2016 Sep;6(9):1052-67. doi: 10.1158/2159-8290.CD-15-1227. Epub 2016 Jul 17.
 The prognostic significance of specific HOX gene ex pression patterns in ovarian cancer. Kelly Z, Moller-Levet C, McGrath S, Butler-Manuel S, Kavitha Madhuri T, Kierzek AM, Pandha H, Morgan R, Michael A. Int J Cancer. 2016 Oct 1;139(7):1608-17. doi: 10.1002/ijc.30204. Epub 2016 Jun 14.
Integrated analysis of the prostate cancer small-nucleolar transcriptome reveals SNORA55 as a driver of prostate cancer progression. Crea F, Quagliata L, Michael A, Liu HH, et al. Mol Oncol. 2015 Dec 22. pii: S1574-7891(15)00246-X. doi: 10.1016/j.molonc.2015.12.010. [Epub ahead of print]
Atlas of prostate cancer heritability in European and African-American men pinpoints tissue-specific regulation. Gusev A, Shi H, Kichaev G, Pomerantz M, Li F, Long HW, Ingles SA, Kittles RA, Strom SS, Rybicki BA, Nemesure B, Isaacs WB, Zheng W, Pettaway CA, Yeboah ED, Tettey Y, Biritwum RB, Adjei AA, Tay E, Truelove A, Niwa S, Chokkalingam AP, John EM, Murphy AB, Signorello LB, Carpten J, Leske MC, Wu SY, Hennis AJ, Neslund-Dudas C, Hsing AW, Chu L, Goodman PJ, Klein EA, Witte JS, Casey G, Kaggwa S, Cook MB, Stram DO, Blot WJ, Eeles RA, Easton D, Kote-Jarai Z, Al Olama AA, Benlloch S, Muir K, Giles GG, Southey MC, Fitzgerald LM, Gronberg H, Wiklund F, Aly M, Henderson BE, Schleutker J, Wahlfors T, Tammela TL, Nordestgaard BG, Key TJ, Travis RC, Neal DE, Donovan JL, Hamdy FC, Pharoah P, Pashayan N, Khaw KT, Stanford JL, Thibodeau SN, McDonnell SK, Schaid DJ, Maier C, Vogel W, Luedeke M, Herkommer K, Kibel AS, Cybulski C, Wokolorczyk D, Kluzniak W, Cannon-Albright L, Teerlink C, Brenner H, Dieffenbach AK, Arndt V, Park JY, Sellers TA, Lin HY, Slavov C, Kaneva R, Mitev V, Batra J, Spurdle A, Clements JA, Teixeira MR, Pandha H, Michael A, et al
Nat Commun. 2016 Apr 7;7:10979. doi: 10.1038/ncomms10979.
Genome-Wide Association Study of Prostate Cancer-Specific Survival. Szulkin R, Karlsson R, Whitington T, Aly M, Gronberg H, Eeles RA, Easton DF, Kote-Jarai Z, Al Olama AA, Benlloch S, Muir K, Giles GG, Southey MC, FitzGerald LM, Henderson BE, Schumacher FR, Haiman CA, Sipeky C, Tammela TL, Nordestgaard BG, Key TJ, Travis RC, Neal DE, Donovan JL, Hamdy FC, Pharoah PD, Pashayan N, Khaw KT, Stanford JL, Thibodeau SN, McDonnell SK, Schaid DJ, Maier C, Vogel W, Luedeke M, Herkommer K, Kibel AS, Cybulski C, Lubiński J, Kluźniak W, Cannon-Albright L, Brenner H, Herrmann V, Holleczek B, Park JY, Sellers TA, Lim HY, Slavov C, Kaneva RP, Mitev VI, Spurdle A, Teixeira MR, Paulo P, Maia S, Pandha H, Michael A, ; PRACTICAL consortium,
Cancer Epidemiol Biomarkers Prev. 2015 Nov;24(11):1796-800. doi: 10.1158/1055-9965.EPI-15-0543. Epub 2015 Aug 25.
A meta-analysis of 87,040 individuals identifies 23 new susceptibility loci for prostate cancer.
Al Olama AA, Kote-Jarai Z, Berndt SI, Conti DV, Schumacher F, Han Y, Benlloch S, Hazelett DJ, Wang Z, Saunders E, Leongamornlert D, Lindstrom S, Jugurnauth-Little S, Dadaev T, Tymrakiewicz M, Stram DO, Rand K, Wan P, Stram A, Sheng X, Pooler LC, Park K, Xia L, Tyrer J, Kolonel LN, Le Marchand L, Hoover RN, Machiela MJ, Yeager M, Burdette L, Chung CC, Hutchinson A, Yu K, Goh C, Ahmed M, Govindasami K, Guy M, Tammela TL, Auvinen A, Wahlfors T, Schleutker J, Visakorpi T, Leinonen KA, Xu J, Aly M, Donovan J, Travis RC, Key TJ, Siddiq A, Canzian F, Khaw KT, Takahashi A, Kubo M, Pharoah P, Pashayan N, Weischer M, Nordestgaard BG, Nielsen SF, Klarskov P, Røder MA, Iversen P, Thibodeau SN, McDonnell SK, Schaid DJ, Stanford JL, Kolb S, Holt S, Knudsen B, Coll AH, Gapstur SM, Diver WR, Stevens VL, Maier C, Luedeke M, Herkommer K, Rinckleb AE, Strom SS, Pettaway C, Yeboah ED, Tettey Y, Biritwum RB, Adjei AA, Tay E, Truelove A, Niwa S, Chokkalingam AP, Cannon-Albright L, Cybulski C, Wokołorczyk D, Kluźniak W, Park J, Sellers T, Lin HY, Isaacs WB, Partin AW, Brenner H, Dieffenbach AK, Stegmaier C, Chen C, Giovannucci EL, Ma J, Stampfer M, Penney KL, Mucci L, John EM, Ingles SA, Kittles RA, Murphy AB, Pandha H, Michael A, Kierzek AM, et al ; PRACTICAL  Consortium;
Nat Genet. 2014 Oct;46(10):1103-9. doi: 10.1038/ng.3094. Epub 2014 Sep 14.
Engrailed homeobox transcription factors as potential markers and targets in cancer.
McGrath SE, Michael A, Pandha H, Morgan R. FEBS Lett. 2013 Mar 18;587(6):549-54. doi: 10.1016/j.febslet.2013.01.054. Epub 2013 Feb 7. Review.
.
Targeting the HOX/PBX dimer in breast cancer. Morgan R, Boxall A, Harrington KJ, Simpson GR, Gillett C, Michael A, Pandha HS. Breast Cancer Res Treat. 2012 Nov;136(2):389-98. doi: 10.1007/s10549-012-2259-2. Epub 2012 Sep 30.
Low grade serous ovarian carcinoma with metastases to the sternum and ribs. McGrath S, Madhuri TK, Susarla S, Haagsma B, Saleh F, Michael A. Pathology. 2012 Aug;44(5):481-2. doi: 10.1097/PAT.0b013e3283559d7d. No abstract available.
HOX genes in ovarian cancer. Kelly ZL, Michael A, Butler-Manuel S, Pandha HS, Morgan RG. J Ovarian Res. 2011 Sep 9;4:16. doi: 10.1186/1757-2215-4-16.
Engrailed-2 (EN2): a tumor specific urinary biomarker for the early diagnosis of prostate cancer. Morgan R, Boxall A, Bhatt A, Bailey M, Hindley R, Langley S, Whitaker HC, Neal DE, Ismail M, Whitaker H, Annels N, Michael A, Pandha H.
Clin Cancer Res. 2011 Mar 1;17(5):1090-8. doi: 10.1158/1078-0432.CCR-10-2410. Epub 2011 Mar
For a full list please check PubMed