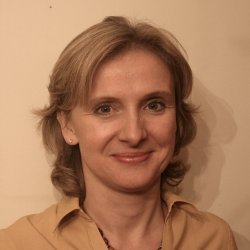 Dr Agnieszka Michael
---
Associate Professor in Oncology , Consultant Medical Oncologist, Medical Director of Surrey CTU
PhD MRCP
About
Biography
Dr Agnieszka Michael MRCP PhD is an Associate Professor in Oncology. She joined University of Surrey in 2008 and at the same time was appointed a medical oncology consultant at the Royal Surrey NHS Foundation Trust. She has a research  interest in ovarian and urological cancers as well as immunotherapy trials. Dr Michael qualified in medicine at University of Wroclaw and undertook general medical and oncology training in UK, at the St George's Hospital in London , Royal Marsden Hospital and Guy's and St Thomas' Hospital. In 2006 she was awarded a PhD for research in cancer immunotherapy and completed Specialist Training in Medical Oncology in 2007. Throughout her training and current post Dr Michael has worked in the cancer clinical trials' field, including early phase studies with novel immunotherapy agents, gene therapy and cancer vaccines as well as international multi-centre phase III and IV studies, as a Chief investigator and a local principal investigator. Dr Michael is a Medical Director for Surrey Clinical Trials Unit and a Cancer Lead for Kent Surrey And Sussex Clinical Research Network.
News
In the media
Meet the Researchers Part Three: Dr Agnieszka Michael
Clinical Trials Investigator
Facebook
Research

Research interests

My research is focused on patients' interests and care, mainly in the field of ovarian, kidney and prostate cancer. I lead on a number of clinical trials of treatment with new  chemotherapy and immunotherapy agents. I am also interested in the management of chemotherapy toxicities in the context of frailty. l supervise several PhD students and oversee research in new biomarkers in ovarian cancer, particularly HOX genes and their targeting, ovarian cancer vaccines as well as prostate cancer.

Research projects

EDMONd – A feasibility study of Elemental Diet as an alternative to parenteral nutrition for patients with inoperable Malignant bowel Obstruction

Malignant bowel obstruction is common in patients with ovarian cancer and often inoperable. Nutritional support for patients with inoperable bowel obstruction (IBO) is challenging. Parenteral feeding (PN) is the recommended route however it is not widely available.
Elemental diet (ED) provides nutrition in the form of amino acids and easily digestible nutrients that are almost totally absorbed in the upper small intestine. It could provide an alternative to PN.
Aims The aim of the proposed research is to determine whether ED is an acceptable form of nutrition in patients with IBO.
The study will assess whether ED:
1. Is tolerated – with regards to the taste, prevalence of nausea, episodes of abdominal pain and worsening of symptoms of obstruction
2. Has a positive impact on quality of life
3. Can meet some of the patients' nutritional requirements

The role of Electronic Frailty Index in improving outcomes for newly diagnosed Cancer patients undergoing systemic Chemotherapy treatment

Diagnosis of cancer is a fearful event for most people. It is a common occurrence and adequate information and provision of the best treatment can not be underestimated. 
Our health can be affected by cancer itself and a range of other conditions and it is really important that we balance the side effects of cancer treatment against the harms it can cause. We know from several studies that clinicians struggle with adequate assessment of older people living with frailty and with cancer and offer less aggressive treatment even if they are not frail. We also know that many frail and older patients suffer multiple side effects of treatment and sometimes die as a result of the treatment itself. This approach leads to older patients with cancer living shorter lives.We need an improved way of assessing frail patients with cancer. We believe it is possible to use a score that can be calculated from medical records that will help us to better estimate the risks of chemotherapy. This score is known as electronic frailty index and has been useful in general practice. Electronic frailty index is now automatically calculated by GPs from electronic medical records. To validate this type of score in cancer we are conduction a research project in 2 parts. The first part will look at the information we can obtain form historical chemotherapy records as well as GP databases. We also plan to interview patients, carers and clinical teams to make sure such approach is acceptable to them and that they would be prepared to use it in clinical practice. In part 2 of the project that will follow in the future we plan to run a large clinical trial and test the electronic frailty
index in patients who are referred for chemotherapy treatment. We believe that it will give both patients and clinicians more information and help them make the right decision regarding cancer treatment. In the long term this project has the potential to improve lives of frail patients with cancer.