Surrey Future Fellowships
Please note, the Surrey Future Fellows campaign is now closed. For other opportunities at the University of Surrey please visit our job opportunities page. 
Your fast track to excellence in research
Become a leading name in your field with the University of Surrey. The Surrey Future Fellows programme is an opportunity for early and mid-career researchers to push forward the frontiers of knowledge and make a real impact from their research.
Surrey Future Fellows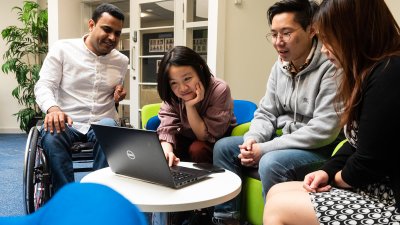 We're looking for up to 40 Research Fellows to bring their ideas and unshakable curiosity to shape the next generation of world-class research at our university. Here at the University of Surrey, you'll find the supportive ecosystem, structured mentorship, and academic opportunities to thrive and become future leaders in your chosen field of scholarship.
Our early career Future Fellowships go beyond just transforming your career prospects, allowing you to make a real impact on the most significant issues of today. With the University of Surrey, you could create research that informs the global direction on topics from sustainable futures, to artificial intelligence, or 6G technology, amongst other diverse strategic areas
The mid-career senior Future Fellowships will appeal to researchers who have done an initial post-doc and are on the threshold of building and leading teams to solve real-world problems.
We believe that the best ideas don't happen in isolation. That's why as a Surrey Future Fellow, you'll find strong peer-to-peer networks, support from world-renowned mentors, and flourishing governmental, NGO and industry partnerships from within the UK and worldwide. This exceptional environment and academic network will unlock your potential to be a future leader whose research will make a difference to society. We hope you'll develop your long-term career at the University of Surrey, where you'll be able to conduct forward-thinking research, empower research students and partners, and generate innovative breakthroughs in your field.
Do you have exciting and ambitious research ideas?
Whether you've already completed postdoctoral research or will shortly be awarded your PhD, apply for the Surrey Future Fellows programme.
Hear more from our world-leading research community at the University of Surrey on what a Surrey Future Fellowship could mean for you and your postdoctoral academic career. View the interactive experience below to discover more. If you require subtitles, please select the icon on the bottom right after playing the video.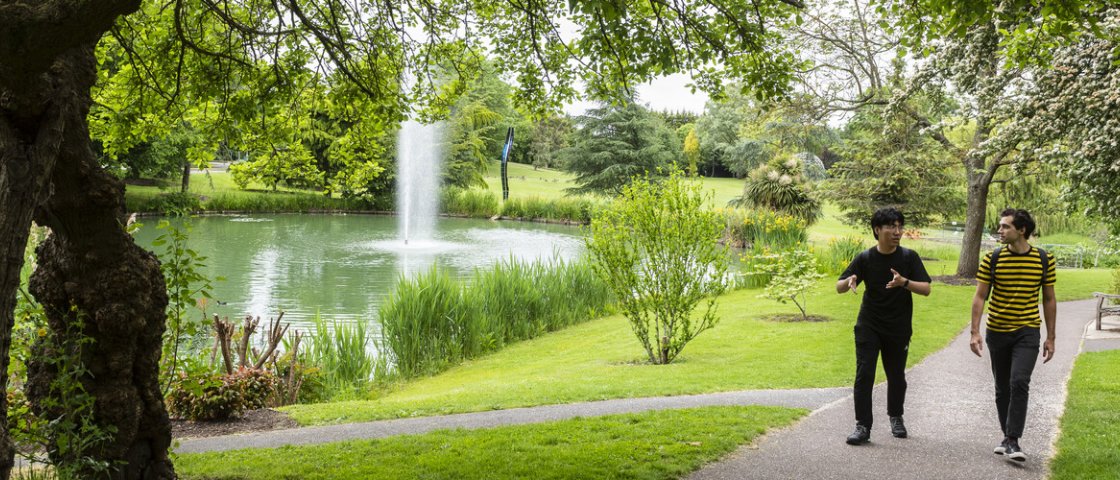 Duration and salary
Earn up to £51,805 per annum.

Senior fellows see more below.
Generous research start-up packages available.
Presumption of a permanent role following successful completion of initial 3-year fixed term contract.
If you're more advanced in your academic research career, senior fellowships with an enhanced salary are also available. If you are interested, choose the senior fellow option on the application form to be considered.
As employees of the University, all Surrey Future Fellows will also be able to enjoy the full range of benefits we have available and become truly valued members of our vibrant academic community.
Research themes
As a leading research-intensive university, our research makes a difference to some of the greatest challenges that humanity faces today. Our impact comes from focusing on research intensity to ensure our teams are large enough to thrive; it also comes from an interdisciplinary approach to problem-solving which requires effective and creative collaboration internally and externally.
Discover some of the vital research questions being answered by our University of Surrey research community. Could you contribute to these research areas or even bring your own original ideas to our fellowship programme such that you help to build a new strategic priority? We look forward to hearing about your research proposal.
Find out more about our key strategic priorities:
Eligibility
To best succeed as a Surrey Future Fellow, you will have achieved your PhD within the last seven years (or will shortly be awarded your PhD), and be:
Creating original, inspirational and realistic research proposals
Able to motivate, lead and inspire others to achieve their best
Interested in managing and delivering every aspect of a research programme
Already putting together high-quality research with potential to achieve awards and funding
Growing a reputation both within and outside of your current institution, e.g. through conference presentations, invited seminars or other collaborations.
We are drawn to prospective researchers and proposals that resonate with our research community's own goals and values. That could include a focus on innovation, positive social impact, and opportunities to collaborate across disciplines. If your ideas for prospective research align with these, please clearly highlight these connections in your application. We look to both build on existing strengths but also invest in complementary new areas, and as such welcome alternative suggestions and contributions as well.
Senior research fellows
Depending on your qualifications and previous experience, you may be more suited to a senior research fellow role.
To be considered, please apply for a Surrey Research Fellowship and choose the senior fellow option in the application form.
Diversity and inclusion
At the University of Surrey, we recognise that exceptional people come from every background, with diverse career paths and circumstances that are unique to each person. As part of our commitment to creating an inclusive and vibrant research environment, we welcome applications from those wishing to work flexibly to meet personal responsibilities. We're particularly interested in supporting those from under-represented groups such as people from Black, Asian and minority ethnic backgrounds.
Explore some of the work taking place at the University of Surrey to support equality, diversity and inclusion.
Awards and schemes
We have many active and supportive equality networks that provide peer support, social opportunities and advocacy for under-represented groups, for example, the Surrey Embracing Ethnic Diversity (SEED) network for people from minority ethnic communities. See our EDI webpages for more information.
Our range of awards and programmes seen below reflect our commitment to supporting equity in higher education, across all areas of equality, race and ethnicity, gender and LGBTQI+, faith and belief, neurodiversity and more.
FAQs
The University of Surrey is looking to welcome up to 40 research fellows who will form a solid network of world-leading researchers at the heart of our ambitious strategic research and innovation programme.
All candidates for this fellowship programme should apply for this job listing.
You'll be asked to complete our online application form, submit a CV (maximum two pages of A4 and up to 1,000 words in total), your research proposal (maximum two pages of A4 and up to 1,000 words in total) and, if you wish, you may include up to two letters of support.
The difference between the reference(s) and the letter(s) of support is that the reference is required to come from the candidate's current employer or educational establishment and will be requested later in the recruitment process, it is also mandatory. The letter(s) of support could be from a wider range of individuals and chosen by the candidate to support their research proposal and recommendation for the Fellowship and is optional. They may be from the same people or different people.
There is an expectation that individuals on the programme will contribute to teaching. This component will be limited during the three years of the Fellowship to ensure research plans are delivered.
Development support will be provided for those who have not previously had teaching experience with support towards qualifications available during the programme. On successful completion of the Fellowship, teaching will continue to be part of the overall responsibility in a permanent role.
If you're successful in your application the University will act as sponsor for a visa application. Continuation on the programme and progression into any permanent position after the programme will be dependent on successful completion of the Fellowship and ongoing right to be in the UK.
We are very supportive of individuals' career progression and fellows may apply for promotion, through the annual promotions process, with the support of their line manager. The fellow's performance and wider contribution to the University will be assessed in line with the level of promotion being applied for.
There is a presumption of permanency associated with this programme. We have a high level of confidence that candidates who meet the expectations will progress to a permanent position. Regular feedback will be provided during the fellowship on progress against expected standards and you'll receive tailored development to help you to reach your potential.
In the unlikely event that this does not happen, individuals will be supported through a period of consultation prior to the end of their contract and will be given the opportunity to join the redeployment register.
We want our Fellows to succeed in their aims and they will be given a competitive package which will include budget for consumables and travel and may include studentships. This will vary according to the nature of the research and requirements to meet key deliverables. Please indicate in your Research Proposal what your research requirements are in this regard.
For further questions, please contact futurefellows@surrey.ac.uk for support.
If you're from an under-represented group and would like to make contact with someone in one of our faculties to discuss making an application, please let us know via the email address above.
 
A postdoctoral fellowship is a funded research position awarded to academics to provide them with the dedicated resources they need to complete a piece of academic research.
Fellowships will often have a dedicated objective, research theme or relevant group. Some common examples include:
Early career fellowships that are open to emerging academics
Future leader fellowships that include specific leadership and communication skill development alongside the research project.
The difference between a research fellow or a fellowship and an individual pursuing postdoctoral work, typically as a research assistant, is the ownership of the project that comes with it.
A research fellow on a fellowship is the principal investigator who defines the topic, writes bids to generate funding and is ultimately responsible for the delivery of a research project. Postdoctoral research assistant roles typically support a principal investigator's research topic as a contributor.
An early career fellowship is a type of fellowship available to those taking their first steps in postdoctoral research. They will typically be targeting people who have not yet completed a full-time permanent academic post but have already acquired some research experience.
As well as being more accessible to apply for, early career fellowships offer structured support and skill development alongside the delivery of research to ensure the academic and professional development of early career researchers.
For example, our Surrey Future Fellowship programme provides research fellows with:
An active peer-to-peer community
Mentorship from world-leaders in their fields
A dedicated bid-writing and financial support team
Leadership and management training and seminars
Teaching support and qualifications.
Interested in experiencing accelerated growth for the start of your research career? 
In terms of the Fellow and Senior Fellow opportunities, the eligibility criteria of 0-7 years since PhD qualification is effectively a 'slide' which applies to both Fellows and Senior Fellows. The difference in the levels is determined by their success/achievements during this time period. Allowances will be made for someone who has had a break in their career, for example, for parental or caring responsibilities and this will be considered on an individual basis.
Besides the satisfaction that comes from pushing the frontiers of research and knowledge, there are many professional and personal benefits to pursuing a research fellowship. As well as the career development and professional recognition that come with proposing, gaining funding and completing your own piece of research as the principal investigator, you will also be entitled to the benefits and rewards packages that come with being a faculty member of the University.
Our research fellows enjoy benefits including parental leave, career development training and travel support.
Ready to be rewarded for participating in world-leading research? If you'd like to enjoy the benefits that come with being a research fellow, apply now for the Surrey Future Fellowship programme.
Different universities and fellowships will have varying conditions on the level of academic background and previously completed post-doctoral experience required for both grant bids and sponsorship.
At the University of Surrey, we're currently welcoming applications for the Surrey Future Fellowships from those that have already secured their PhD (within the last seven years) or are shortly to be awarded the qualification. We expect that you will have submitted your PhD by the time of the interviews, which will be taking place in early/mid-December 2022. If you are more advanced in your career, you can apply for a senior fellowship position by indicating the level on the application form. If you have ambitious plans for research excellence, apply to be a Surrey Future Fellow.
Fellowships are offered by different institutions and grant organisations with varying purposes in mind, and therefore can last for anything from a couple of months to a number of years. Fellowships typically last for between two to five years, especially for early careers fellowships.
The Surrey Future Fellowships that are currently open for applications will begin in early 2023. The initial period of the Fellowship is for three years during which time fellows will be on a research intensive pathway. Providing that the criteria for progression to a permanent position is met, fellows will then take up a teaching and research pathway at the beginning of their fourth year.
Whether you have gained prior postdoctoral research experience or are just finishing your PhD, it can be unclear how to take the next step to begin leading your own piece of research.
If you are interested in research fellowship opportunities that will allow you to lead your own piece of research, then it's never too early to begin preparing and one of the first steps is developing the ideas behind the research topic you're proposing. Where possible, get feedback from mentors and other academics to ensure what you propose is achievable, realistic and highly-relevant to the field; this will make it much easier to successfully present this when applying for grants.
You can then begin the process of application for research fellow positions. This can either be done through:
Applying to the fellowship funding body where a university or laboratory sponsorship will then need to be separately approached to be a research sponsor
If there is interest in your proposed topic, then the next stage typically would be an invitation to present to key members of the organisations. If it is then approved, then your sponsor will liaise with you to ensure you have everything you need to deliver the proposed research such as laboratory space, equipment and if necessary, research assistants
Applying to a university directly for one of their research fellowship opportunities. If your research proposal is approved by the university, then they may be able to offer additional support in gaining research funding and getting set up.
Interested in becoming a research fellow? Apply for the Surrey Future Fellow programme.
A fellowship ends once the final reports are submitted to the organisation that provided the grant funding originally. For research fellows, there are a range of options available for what you may want to do next such as:
Continue your academic research career by applying for new grants to build off on your findings or explore a related area of study. This may involve choosing to remain with the same university and research community or look to move elsewhere
Apply for permanent academic positions as a lecturer, professor and other roles at a university. These will typically include teaching, research and administrative responsibilities
Move into professional opportunities with industry and the private sector.
For many researchers, the end of a fellowship can represent a great deal of uncertainty. Unlike other traditional fellowships, being a Surrey future fellow offers genuine long-term prospects as there is the presumption that candidates will progress to a permanent academic position with the University of Surrey and continue to develop their career as part of our thriving research and academic community.
If you're interested in this pathway, then regular feedback will be provided during the fellowship on progress against expected standards and you will receive tailored development to help you to reach your potential.
Research fellowships are available in all kinds of areas of study, from science, medicine and engineering to language, culture and arts and even across traditional disciplines.
While some research fellowships may be tied to a specific field of study, opportunities such as the Surrey Future Fellowships are open to applications from any field of study. At the University of Surrey, some of our key strategic research areas include sustainability, person-centred AI and digital health. However, opportunities on the programme are not limited to these areas and we encourage all eligible research fellowship candidates to submit an application and research concept, and this will be given due consideration. Submit your research proposal and apply to be a Surrey Future Fellow.
International fellowships provide support for those who are not UK citizens or permanent residents to pursue postdoctoral research at universities in the UK.
The University of Surrey is proud to be made up of people from over 140 different countries and has a wealth of expertise when it comes to supporting individuals to come to study and work in the United Kingdom. If you are successful in your fellowship application, then the University will act as sponsor for a visa application.
Continuation on the programme and into any permanent position after the programme are dependent on the ongoing right to be in the UK.
Yes. As a fellow in the UK at the University, you'll receive a salary. This is supplied by the fellowship grant you are awarded along with any lab running costs, equipment and the salaries for any additional members of the research team such as research assistants or PhD students.
On our Surrey Future Fellowships, a research fellow could expect an annual income of up to £51,805 per annum with an enhanced package available for those eligible to join at senior fellow levels.
To apply for a postdoctoral research fellowship in the UK, you would first need to check that the grant funding is open to international applicants. This information is typically provided either by the fellowship funding body or the university where the fellowship would take place.
If you are eligible, then you can apply by registering an application with either the funding body or a university with your research proposal and any additional required information. If your application is successful, then the university would then act as sponsor for a visa application.
We are welcoming international applications to the Surrey Future Fellowship programme.
The responsibilities of research fellows can differ hugely across different cultural and academic contexts. For academia in the UK, a research fellow typically refers to an independently-funded principal researcher who proposes and delivers their own post-doctoral academic research topic, with support where necessary from post-doctoral research assistants.
The role of universities in the UK for research fellows is to provide research sponsorship. As a sponsor, they commit to ensuring arrangements are in place for you to be able to access the resources and support you need to deliver the proposed research. This extends as well to some responsibilities for the management and monitoring of the research and its delivery.
Interested in becoming a postdoctoral research fellow at the University of Surrey? Our Future Fellowship programme is now accepting applications. Full guidance on how to apply, and the eligibility criteria, is available.
How to apply
Ready to claim your place on the Surrey Future Fellowship programme? It all begins when you start your application. When applying please complete the application form, attach your CV and research proposal (both of which must not exceed two pages of A4 and 1,000 words per document). If you wish, you may include up to two letters of support. Please note the closing date of midnight Friday 18 November 2022.
In your application, please include details of your prior academic experience and background, your prospective research area and a brief overview of your successes so far. This should include examples demonstrating your research excellence such as publications or bid/grant feedback, citations, prizes, awards, or conference presentations to the wider research community. Please also include details of any mentoring, leadership or teaching experience you have gained.
If you're successful in your application, you'll be contacted by the University of Surrey with an offer to join the Fellowship.
We'll be excited to welcome successful candidates to begin their Surrey Future Fellowship journey with us from early 2023.