People
We provide early design, development and prototyping support for groups looking to create innovative new space projects using our expertise and high quality space engineering facilities.
Meet the team
To find out more about how you can participate in SpaceCraft, please email our project management team highlighting your areas of interest.
Space engineers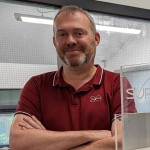 Biography
Paul started as an apprentice at the then named Royal Aerospace Establishment, moving up to craftsperson in the space department, where he stayed for 27 years.
He has worked at organisations such as Airbus and QinetiQ and is an ESA-qualified operator, inspector and trainer.
Find out more about Paul's role in Spacecraft.
Project management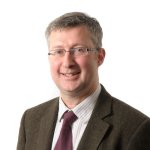 Professor Keith Ryden
Head of Surrey Space Centre
Biography
Professor Ryden is currently Interim Director of the Surrey Space Centre, a research unit within the School of Computer Science and Electronic Engineering. The Centre focusses on space applications, exploration and instrumentation and has a long history of building practical space instruments, experimental satellites and leading missions.
Keith's own field of research concerns the effects of space weather and radiation on satellites, aircraft and ground systems and how to protect them. He has participated in numerous national and international projects (including with the European Space Agency and NASA) to develop and fly novel space instruments and he uses the data to improve space environment models and engineering approaches. For example, Keith's own instrument-designs are today used on the European Space Agency 'Galileo' constellation and on Japanese Meteorological satellites to measure the hazardous high energy electron environment. He has strong research links with the UK Met Office and UK Ministry of Defence as well as with the space industry generally. Keith is currently a member of the UK Space Environment Impact Expert Group (SEIEG), which advises the UK Government on space weather risks. He is Chartered Engineer and Fellow of the IET.
After graduating from the University of Bath in 1986 with a First Class Honours in Electrical and Electronic Engineering, Keith joined the Royal Aerospace Establishment (RAE), Farnborough, then part of UK Ministry of Defence (MoD), to carry out research into improving the effectiveness and survivability of UK defence satellites. In parallel he completed a part-time MSc in Satellite Communications and Automatic Control Engineering at the University of Surrey, graduating with Distinction. Keith led the design, construction and launch of two 50kg research satellites (STRV1a and STRV1b) for the MoD/DoD which performed their missions successfully from 1994-1999.
Following privatisation of RAE in the late 1990s, he was appointed to the position of Technical Fellow at the successor company QinetiQ (2007) where he led a team dedicated to understanding threats to satellites and providing solutions in particular to support the UK Skynet defence communications satellite system. In 2012 he joined the Royal Academy of Engineering study team examining Extreme Space Weather which reported in 2013. Soon after that he took up a post at the University of Surrey, initially as Reader in Space Engineering.
Keith teaches a masters-level module 'Space Environment and Protection' at Surrey which he developed himself, and has lectured in electronic engineering courses and led the running of associated laboratories.

Our facilities
We provide technical facilities so smaller companies can collaborate and make space-related prototypes.