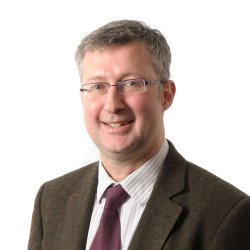 Professor Keith Ryden
---
Head of Surrey Space Centre, Professor in Space Engineering
BSc (Hons), MSc, PhD, FIET, MIEEE
About
Biography
Professor Ryden is currently Interim Director of the Surrey Space Centre, a research unit within the School of Computer Science and Electronic Engineering. The Centre focusses on space applications, exploration and instrumentation and has a long history of building practical space instruments, experimental satellites and leading missions.
Keith's own field of research concerns the effects of space weather and radiation on satellites, aircraft and ground systems and how to protect them. He has participated in numerous national and international projects (including with the European Space Agency and NASA) to develop and fly novel space instruments and he uses the data to improve space environment models and engineering approaches. For example, Keith's own instrument-designs are today used on the European Space Agency 'Galileo' constellation and on Japanese Meteorological satellites to measure the hazardous high energy electron environment. He has strong research links with the UK Met Office and UK Ministry of Defence as well as with the space industry generally. Keith is currently a member of the UK Space Environment Impact Expert Group (SEIEG), which advises the UK Government on space weather risks. He is Chartered Engineer and Fellow of the IET.
After graduating from the University of Bath in 1986 with a First Class Honours in Electrical and Electronic Engineering, Keith joined the Royal Aerospace Establishment (RAE), Farnborough, then part of UK Ministry of Defence (MoD), to carry out research into improving the effectiveness and survivability of UK defence satellites. In parallel he completed a part-time MSc in Satellite Communications and Automatic Control Engineering at the University of Surrey, graduating with Distinction. Keith led the design, construction and launch of two 50kg research satellites (STRV1a and STRV1b) for the MoD/DoD which performed their missions successfully from 1994-1999.
Following privatisation of RAE in the late 1990s, he was appointed to the position of Technical Fellow at the successor company QinetiQ (2007) where he led a team dedicated to understanding threats to satellites and providing solutions in particular to support the UK Skynet defence communications satellite system. In 2012 he joined the Royal Academy of Engineering study team examining Extreme Space Weather which reported in 2013. Soon after that he took up a post at the University of Surrey, initially as Reader in Space Engineering.
Keith teaches a masters-level module 'Space Environment and Protection' at Surrey which he developed himself, and has lectured in electronic engineering courses and led the running of associated laboratories.
Areas of specialism
Space Environment;
Radiation Effects
University roles and responsibilities
Head of Surrey Space Centre
Research

Research interests

Space environment and protection

Spacecraft must operate in a dynamic and hostile radiation environment which can interfere with, and sometimes damage, on-board technologies and systems. For astronauts and space tourists the radiation can even be life-threatening. Furthermore, radiation from space can penetrate deep down into the Earth's atmosphere where, once again, it can present problems for airborne (and sometimes even terrestrial) electronic systems and deliver radiation doses to passengers and crew. We seek to measure, understand and quantify these effects and propose solutions to improve the reliability and safety of both spacecraft and aircraft.

We work on the following areas:

Space radiation and space weather measurements

The space environment is always changing primarily due to solar activity, which give us our local 'space weather'. In-situ measurements of space radiation are vital for determining the real hazards to satellites and aircraft on both a short term and long term (climatological) basis. We have developed novel in-situ instrumentation and flown this on numerous space missions (including collaborations with ESA, NASA and others) and we currently have a number of active monitors, including one on Giove-A operating in medium Earth orbit (20,000 km altitude).

Space radiation models

Designers of spacecraft rely on models of the space environment to form a key part of their design specifications, however these are known to contain a number of inaccuracies and simplifications. We continually test the industry standard models by comparing them to measurement data and we are also participating in the development of new improved models e.g. the European FLUMIC model for outer belt electrons.

Engineering effects of space weather

Space radiation can cause a number of effects in microelectronics including single event effects (SEE), ionising dose damage, displacement damage and electrostatic charging. As technology moves onward, previously unknown issues and problems come to light. We undertake experimental research using test facilities not just here at Surrey but also all over the world to examine the behaviour of the latest technologies and determine what protection measures are needed. We are especially interested in extreme space weather effects and are a founding member of the EU SPACESTORM programme carrying out research into such issues.

Atmospheric radiation and effects on aircraft

During strong solar storms radiation levels within the atmosphere can increase by factors of 100 or more at aviation altitudes and we aim to capture these events using our own instruments on balloons and aircraft. We participate in international programmes (e.g with NASA, UK Met Office, and various airlines) for measuring radiation (e.g. neutrons and muons) generated by particles impacting the top of our atmosphere and we study the effects of these on technological systems, especially microelectronics.

Expert advice and consultancy

We provide advice and consultancy to government committees (e.g. the Space Environment Impact Expert Group and the Cosmic Ray Advisory Group) as well as to industry such as SSTL, EDF and QinetiQ.

For more information, please contact me:k.ryden@surrey.ac.uk.