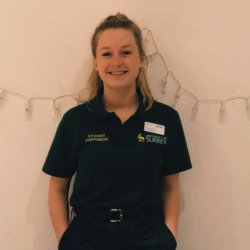 Ella Battson
"The staff at Surrey are very friendly and treat us as co-workers (which one day we will be!), instead of just students."
Studying at Surrey
I'm passionate about taking care of people, and it's a privilege to study Paramedic Science. I love the idea of being there in people's time of need and possibly the kind face on the worst day of their lives.  
On my course, I like that we have periods of theory before going on placement as this gives me time to consolidate my learning and feel confident before applying my knowledge on the road.  
The staff at Surrey are very friendly and treat us as co-workers (which one day we will be!), instead of just students. When I was choosing Surrey, I liked that I'd be taught by lecturers who are active paramedics and can give insight into the reality of working within the Ambulance Service. All the staff and students on the open day were really welcoming and I felt very at home. 
The facilities at Surrey are incredible, not only giving us access to an ambulance and all the kit we would have on the road, but the Clinical Simulation Centre also prepares us for how hospitals work and how that feels. The Immersive Learning Environment projects scenarios onto the walls and the team provides us with actors to act out scenarios, which prepares us massively for placement.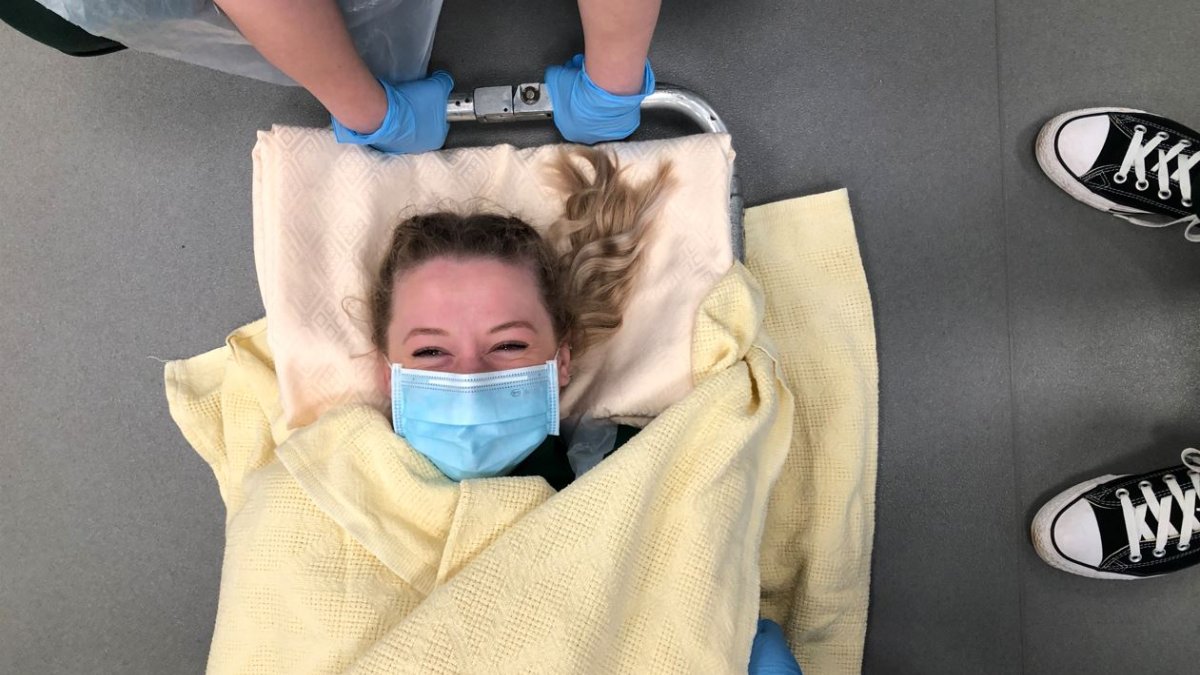 On placement
So far, I've been on placement in Farnborough, Walton and this year will be placed at Gatwick. I've also had my hospital placements at St. Peter's and Royal Surrey hospitals. Most recently I've been to Ghana for my elective placement.  
On placement, we learn from doctors and nurses in different areas of medicine, and they really encourage us to get involved, practice skills and increase our medical knowledge.  
Life on campus
I'm part of the dance squad and lacrosse team. They've been a massive part of my university experience where I have met some of my best friends and enjoyed being part of a team. I fit my studies around my extra-curricular activities easily and this allows me to experience a full social life at uni.  
I lived on the Manor Park campus in my first year which I absolutely loved. I was in a flat of seven people from different courses. The campus cafes, Surrey Sports Park and the Kate Granger Building (where my lectures are) were all within walking distance.  
Looking ahead 
Since starting at Surrey, I've become a much more independent woman and learnt to manage my time around societies, studies, socials, and part-time jobs. The course has really challenged me in my abilities and the positive feedback I've received has increased my confidence as a person. 
When I graduate from my course, I will go on to being a Newly Qualified Paramedic on the road, but there are opportunities to progress in the role such as management, education or critical care paramedics or paramedic practitioner roles.