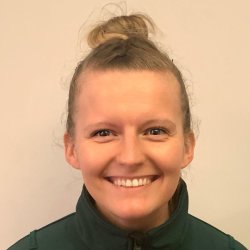 Amy Herkes
"The teaching staff are by far the best bit about being at Surrey. As practising clinicians they're very inspiring and the support they give is admirable."
Course
Paramedic Science BSc (Hons)
Why I chose Surrey
From an early age, I attended emergency first aid courses and always enjoyed learning about basic life support and what to do in an emergency. Whilst working at a health club at 16, a member collapsed, and I commenced CPR waiting for help to arrive. After that experience, I remember coming home to my dad and saying, "I want to be a paramedic."
Although I initially began a PE teaching career, there was always a big part of me that wanted to pursue my dream to be a paramedic and knew in my heart that one day I would.
To satisfy my curiosity, I started looking at different universities and felt a career change would be too difficult, until I found Surrey.
I recall meeting the teaching staff at my interview and realising, 'this is it, this is my university'. Surrey has a fantastic reputation and their outstanding facilities stood out above the rest. When I received my offer, I was over the moon!
My course
The way my paramedic science course is structured is perfect for me. I enjoy spending time in university, developing my skills and knowledge, and then attending clinical placement to practise these further. So far, I've had invaluable experiences – visiting the helicopter emergency medical service and being taught by a range of external clinicians – which has been a fantastic learning experience.
The teaching staff are by far the best bit about being at Surrey. They make us feel like a big team which has played a big part of my development. They're extremely knowledgeable and as practising clinicians they're very inspiring. The support they give is admirable – no matter what, I know they're there to help and guide me throughout my studies and will go above and beyond to ensure I'm reaching my full potential. They're always coming up with new and inventive ways of teaching us and provide us with opportunities to further our learning.
The facilities are incredible. Our simulations are extremely realistic, especially when we use the Immersive Learning Environment. There's also a working ambulance we can use to practise our skills, from assessing and treating patients, all the way to loading them into the ambulance and then handing them over at one of the on-site hospital wards. Recently, I got to take part in a simulated incident where the immersive suite was transformed into a nightclub, using projections, music and lights. Actors played patients to make it feel more realistic too. It was a great opportunity to emulate a difficult working environment, like what I could face once I've qualified.
My clinical placements
My placements have been split between the South East Coast Ambulance Service NHS Foundation Trust (SECAmb), hospitals and the wider community. Throughout these, I've practised my skills taking patient observations, administering injections, placing cannulas and so much more. Having such a variety of placements has increased my confidence and knowledge, working with a wide range of clinicians in different environments.
In my first year, I attended a cardiac arrest of a very young patient. We saved her life that day and every year she sends us a card to thank us for giving her another chance to spend Christmas with her family. Moments like that are why I chose this career – we're given the rare opportunity of having an impact during what could be the worst moment of a patient's life.
My career and development
My time at Surrey has changed me as a person in many ways. When I started my course, I was worried I wouldn't be academic enough to succeed but through the amazing opportunities and the teaching staff, I've excelled more than I expected. I'll be forever grateful for their support.
I've recently received an offer to work as a paramedic with SECAmb, which a dream is come true! In the future, I'm hoping to study for a postgraduate degree. I might even combine my previous teaching career with my new paramedic one to become a lecturer!
My advice
Come and see Surrey – as soon as you walk onto campus you'll feel at home and be amazed by the facilities.
It's also never too late to make a career change!
Studying Paramedic Science is hands down the best decision I have ever made, and I feel extremely proud to be a Surrey student.