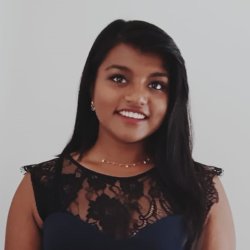 Emma Jeyarajah
"Self-learning is a key skill in growing as a developer and the Final Year Project develops your ability to work independently and produce a result which you then present at a professional standard – which is very similar to how a product is delivered."
What was your most useful experience at Surrey?
My most useful learning experience was the Software Engineering module which required us to work in randomly selected groups to create an application for dementia patients. This helped me to improve my team working and communication skills, which are vital when you work in software development. I also had to meet with a supervisor fortnightly to feed back on progress and do a demonstration of what we had accomplished.
The group project allowed me to explore different roles such as project manager, developer, tester and provided an insight into development operations as we were monitoring the progress of the criteria that we had set for the app. Experiencing these roles – which all have a significant impact on the project outcome – allowed me to gain a better understanding of how business operations function in the work place.
Did you do a placement and if so, how did this influence your final year studies and graduate job search?
During my degree I worked at ITM Ltd (a data management company specialising in the financial sector). This enabled me to apply the knowledge I'd gained at Surrey into practice and improve my technical skills.
Working as a professional exposed the real difficulties of software development such as dealing with deadlines, facing mental fatigue from problem solving and working under stressful conditions. Finding strategies for coping with these struggles allows you to transition more efficiently from being a student to a working professional when you graduate.
My placement also allowed me to trial an area of technology that I was interested in: web development. For me, this confirmed that software development is the right area for me, but it can also be useful in helping you realise that an area of technology doesn't excite you and enabling you to change direction.
"In the first few months of being a final year student, I was offered a graduate role by the company I was working for as a contractor, which took a lot of pressure off my shoulders and allowed me to focus on my studies."
What is your current role and how has your degree benefited you so far?
I'm currently a Junior Software Developer at DCSL Software. The web development modules I studied at Surrey have helped me in terms of technical skill and allowed me to gain a better grasp of design principles, while the practical experience I gained from labs has been very beneficial as programming is at the heart of my job.
The Final Year Project at Surrey, where you work as an individual and become well-versed in a particular technology, has also proved useful. Self-learning is a key skill in growing as a developer and the Final Year Project develops your ability to work independently and produce a result which you then present at a professional standard – which is very similar to how a product is delivered.
Do you have any other thoughts you'd like to share with prospective students?
If you have the opportunity to gain more practical experience, take the chance as it will be invaluable to you as a developer, even if you may have never worked with that specific technology before. Being able to pick things up quickly takes practice and I found that this approach was something that increased my confidence as well as improved my ability to pick up technical aspects.
Discover our courses in computer science, including our BSc (Hons) Computer Science.