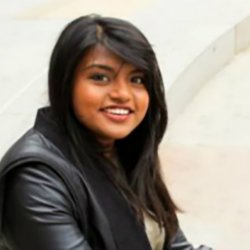 Emma Jeyarajah
"My biggest achievement on placement so far has been witnessing the code I wrote being used by clients on the live system."
Course
Computer Science
Placement company
ITM Limited
"Two of the reasons why I chose to study Computer Science at Surrey are that the programme is well recognised by industry and has a very high student satisfaction rate. I've found the programme challenging but engaging – the content covered is relevant and appropriate for students who are keen to keep up with the technology scene.
The academic staff on the programme are very approachable. They interact well with students, which helps you to understand the material better and makes lectures and tutorials more enjoyable.
There are also plenty of labs available for students, which prevents the facilities from getting overcrowded.
I opted to do a Professional Training Year as part of my course, and am currently on placement at ITM Limited, a data management company which specialises in the UK financial sector. I was interested in getting involved in full stack development and learning new technologies while putting the knowledge I'd gained at Surrey into practice, so when I saw this opportunity advertised on the University database, it seemed perfect. Although challenging, because you are competing with other students for a placement, the process was very straightforward, just involving an interview and test at the assessment centre before a two-week wait to find out if I'd got the job.
Working in ITM's Software and Products – Development team, my main duties involve writing and testing code, reporting any bugs through system testing, and fixing bugs and issues. I have been working on a specific project called eMember which is predominantly used by members of pension schemes to view how their funds are performing. Throughout the placement, I am advised by my Surrey placement supervisor in collaboration with my industrial placement supervisor.
My biggest achievement on placement so far has been witnessing the code I wrote being used by clients on the live system. Being able to progress a functionality from a ticket/JIRA onto the online website, which is used by the client's many members, has been very rewarding and satisfying. Also, learning to code a full stack, and understanding the thought process behind it, has allowed me to explore different approaches. This type of experience provides great insight for anyone wanting to enter a technology career.
After completing my final year at Surrey and graduating, I hope to work in the technology field as a developer, gaining as much experience in the field as possible before I commit to a specific area of development. The University has been a great place to study: the diversity of cultures and personalities makes it a wonderful learning environment, encouraging you to expand your knowledge and increase your personal growth."
Discover more about our computer science programmes, including our BSc Computer Science.