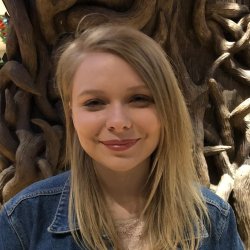 Izzy Ross
"Surrey has great connections with placement providers all over the world, and I'm really excited to be spending next year in Italy for my Professional Training placement."
Course
Medicinal Chemistry BSc (Hons)
I decided to come to Surrey because of the opportunity to do a placement year, the good reputation of its support services and because I really liked the campus. Seeing the enthusiasm of the staff in the Department of Chemistry when I visited on an Open Day also influenced my decision to come here.
"The BSc (Hons) Medicinal Chemistry appealed to me because it offered a combination of core chemistry modules and ones offered by the Department of Biosciences."
The aspects of the course I've most enjoyed are the modules in pharmacology and medicinal chemistry, which are the areas I'm most interested in and wanted to learn more about. Another highlight has been the laboratory work: every week we have a full day in the lab to carry out a variety of different experiments. This is a great opportunity to learn, ask questions and see the practical applications of what we learn in lectures.
The academic staff in the Chemistry Department are all very enthusiastic and supportive. We have a timetabled slot every week to see our personal tutors which is great as you get to build up a good relationship with them.
Surrey has great connections with placement providers all over the world, and I'm really excited to be spending next year in Italy (between my second and third years of study) for my Professional Training placement, under the Erasmus+ programme. I'll be going to the University of Modena and Reggio Emilia and undertaking a medicinal chemistry traineeship.
Since starting at Surrey, I've gained a lot of confidence both in the laboratory and in general. I've taken on several leadership roles within the University which I'm proud of, including becoming Publicity Ambassador for Nightline, a student-run confidential listening service. I also ran in the Students' Union elections this year and was successfully elected as a part-time officer for the Support Zone. Getting involved in the Students' Union is a great thing to do as you meet lots of different people and get the opportunity to help improve other students' experiences.
Apart from that I've become involved in quite a few societies including ChemSoc, ZenSoc and Yoga which have all been great to meeting people other than those in your accommodation or on your course.
I've become more comfortable in myself since coming to Surrey, and more aware of my strengths. When I graduate I want to stay in the field of chemistry, possibly doing postgraduate study or finding a job in the pharmaceutical industry.
Discover our courses in chemistry, including our BSc (Hons)/MChem Medicinal Chemistry.