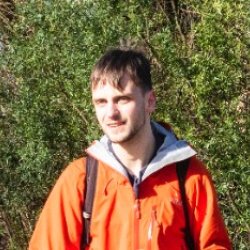 Jack Morton
"The fact Surrey is a campus university was a key selling point in deciding to come here. I liked the community feel and the fact everything is close by and convenient."
Course
Water and Environmental Engineering MSc
Research project
Water treatment technologies
Choosing Surrey
I'm originally from Winchester in Hampshire, so coming to Guildford wasn't too far from home.
I liked the look of the undergraduate course at Surrey, and I stayed on to do my masters because I loved the course and I enjoyed living in Guildford.
I attended an open day and an applicant day for my undergraduate course. They were useful in getting to know the style of the course and the feel of the campus. It was also good to be able to talk to students about their experiences.
My course
I became interested in water treatment research during the third year of my Bachelor of Engineering undergraduate degree (BEng) while I was writing my dissertation. I was exploring microplastic pollution and its effects in freshwater environments.
My MSc in Water and Environmental Engineering mainly focuses on water treatment technologies. But you also learn about water and health, the risks in developing countries, and more general theory of infrastructure management. There's a module in applied chemistry and microbiology, too, where you learn about how water treatment processes work.
Water treatment is becoming increasingly important. There's widespread water scarcity and we need to develop ways to become more efficient in our water use and re-use.
Student life
My MSc has been my favourite year so far because I've had the most independence and I've found the course exciting.
I joined the Yoga Society in the third year of my BEng and I really got into it. Yoga's great for my back and it calms me down when I'm stressed, which is perfect for exam season!
I also joined the salsa society and trained for a showcase at Christmas. This was great and I'm planning to keep learning after I leave university.
Campus life
The fact Surrey is a campus university was a key selling point for me deciding to come here. I liked the community feel and the fact everything is close by and convenient.
The lake is wonderful on a sunny day and Wates House is great to get food or a drink, especially when it's cold in the winter. I mainly use MySurrey Hive, a centre in campus for advice and study, to organise myself and get help. It's the easiest way to find out who I need to speak to.
I'm also a cyclist. There are cycle paths and plenty of places to lock up on campus, as well as great bike routes to surrounding villages, especially along the River Wey.
Accommodation
I lived in student accommodation in the first year of my undergraduate degree. I liked it because you end up meeting people you wouldn't meet otherwise  and it's really sociable.
I used to spend all my free time in the kitchen, and other students would teach me how to cook new meals.
Living here will be one of the abiding memories of my time at Surrey.
It was so convenient, too – I could see my lecture hall from the window!
The future
I'm starting a PhD looking at resource recovery from waste water. I want to pursue research as a career, and a PhD will give me a good chance to build my skills.
Find out more about our masters courses in the Department of Civil and Environmental Engineering.