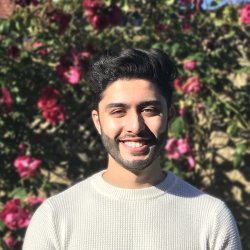 Jawad Ahmed
"The best thing about Surrey is the diverse group of people who study here and the close, friendly community. I've met people from all over the world which has allowed me to grow a professional network and build strong communication skills."
I decided to study at Surrey because it was one of the few institutions offering a degree which had a good mix of technical computer science modules combined with practical business modules. In addition, Surrey has one of the highest graduate employability rates and an option for a Professional Training year.
The University is also situated in a fantastic location with strong links to London, but without the London prices. Most of the essential places such as the town, train station and gym are all a convenient 10-15 minute walk from campus.
The academic staff and facilities on my programme are great. The academics are always available to help. There are set times during the week when we can pop in and ask them any questions we have, and they are also responsive via email. In the final year, students are allocated a personal supervisor who is available at all times to support and guide you on your final year project.
The University has invested heavily in its computer science labs and has multiple labs around campus which offer large monitors, fast internet speeds and powerful desktop configuration. It has both Linux and Windows operating systems which are accessible for us to use off-site, which means we have access even when we're away during the holidays. The Library – which has dedicated floors for silent, individual and group study – is useful throughout the year and especially during exam periods.
"There's always activity and life buzzing around the Surrey campus throughout the day. There is a society for nearly everything, and I participated in a number of these including Boxing, Indian Students Association and Bengali. This meant that I met many different people, some of whom became good friends. I also got the chance to take part in charitable events such as climbing Mount Snowdon, raising over £600 for charity."
My Professional Training placement was another highlight of my time at Surrey. As a Technical Consultant at Mapp Digital, I worked with large well-known clients which helped me to develop my interpersonal skills. As well as boosting my CV, it gave me an introduction to what a graduate job would be like and I returned to Surrey for my final year with a strong routine and work ethic. 
The best thing about Surrey is the diverse group of people who study here and the close, friendly community. I've met people from all over the world which has allowed me to grow a professional network and build strong communication skills.
I can see why Surrey has such a high graduate employability rate. The Employability and Careers (E&C) centre is excellent and the careers fairs they put on allow you to connect with professionals in industry. You can book in for a session with a member of the E&C team where they will review your CV and cover letter and provide tips and tricks for interviews, or you can practice your skills in a simulated interview.
After I graduate I'm looking to become a cyber security consultant. With the help of the security modules and my final year project on security chips, I feel I've gained the knowledge I need to pursue a career in this field. I'm also currently working on a start-up as a side project so will see where that leads!
Discover our courses in computer science, including our BSc (Hons) Computing and Information Technology.