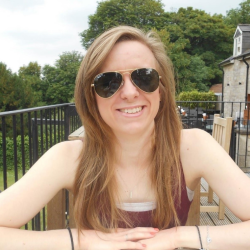 Laura Garside
"Surrey was the only university I could see myself at. I nearly didn't apply, but after visiting the campus I was sure that I wanted to study at Surrey."
My career and development
I knew at Surrey that I wanted to end up working in marketing. I selected all marketing module options in my final year and really enjoyed them.
I completed a professional training placement in the Total Customer Satisfaction team at Nissan and really enjoyed the project management aspect of my role. After I completed my degree I started working at a management consultancy called Pcubed.
At Pcubed, I worked for a key automotive client in several project management and more technical roles. This allowed me to really build on my project management experience and I was also able to undertake some well-known project management qualifications. Following this, I wanted to move into a marketing role, so I supported the global marketing team and completed a CIM diploma in Professional Marketing.
Applications for marketing roles are extremely competitive so moving into a full-time marketing role was challenging. I did this by remaining within the automotive sector and trying to understand as much as I could about it as possible. Project management skills are transferable, so they really help me day-to-day in my current role.
I'm currently employed at Millbrook as a Marketing Executive. Milbrook provides vehicle test and validation services and systems to customers in the automotive industry. My role involves digital marketing, PR, creating marketing collateral and communications, and gives me the opportunity to work with our global teams on a range of projects.
Your placement
Working at an international organisation gave me exposure to global processes and the set-up of large teams. At Nissan, I worked on project briefs and website updates for several projects.
The Total Customer Satisfaction team managed recall and service campaign information for the Nissan dealer network. My role included working on the dealer network system and liaising with the development team to complete bug fixes and change requests.
"It wasn't until about two years ago that I realised the full value of my placement."
It gave me some important skills applicable for marketing and I also had an amazing mentor who I have remained friends with. We support each other with key career decisions and other challenges.
Your time at Surrey
Surrey was the only university I could see myself at. I nearly didn't apply, but after visiting the campus I was sure that I wanted to study at Surrey. My course was extremely varied. I really enjoyed this in the first year as it gave a good overview of different elements of business management.
"Without a doubt, the happiest memories I have of Surrey are meeting my now best friends. Surrey has so many opportunities to make new contacts and friends, and I am so grateful for meeting such a great bunch of people."
For anyone thinking about applying, my teaching team were great, the staff have time to support you as required. Employment opportunities are also good at Surrey and the location of the campus is beautiful.
Advice for students
Enjoy it! Get involved with everything that you feel comfortable with. Although grades are of course vitally important, I learned so much from the other elements of university life at Surrey. Meeting a great bunch of friends really boosted my confidence which helped to prepare me for the working world.
Discover more about our business management courses at Surrey Business School.