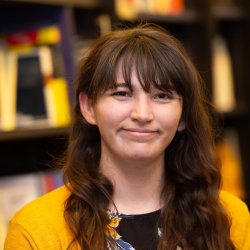 Rosie Sparrow
"The modules themselves were so interesting with a unique range of texts, which I may never have discovered on my own".
Course
English Literature BA (Hons)
Placement company
VisitBritain
What attracted you to choose the University of Surrey?
As soon as I arrived for an open day I loved the atmosphere, thought the campus was beautiful and somewhere I wanted to be. I really liked the range of modules offered for English literature and I was also drawn to the Professional Training placement year option. This wasn't a feature I saw advertised at many universities at the time.  
What were the best things about your course?
My lecturers were all very passionate about their modules and the texts, but they were also honest when they didn't like a text, to regularly invite debate and discussion. They were supportive and wanted you to succeed in the whole course, not just in their own modules. 
What do you do now?
At VisitBritain I'm the technical lead on most of our big projects and I enjoy how varied my role is.  I can be implementing new systems into the organisation one day and creating training materials and videos for different systems the next. Before I joined my current team, I worked in events and coordinated our stand for ITB Berlin, which is the world's largest travel trade event. On the side, I also run a book blog as, as much as I love the technical side of my job, my main passion will always lie with books and it helps keep my options open if I want to make a move into publishing. 
How did your time at Surrey help you choose what career to go into?
I now work at the organisation where I did my placement year. A couple of months after I graduated, I was asked if I would go back on a temporary basis to help with one project. If you choose to do a Professional Training placement year, you're regularly reminded how many doors are open for you, aside from the usual routes into public relations or teaching.  
What is your advice for students aspiring to work in your profession?
Don't be put off from applying for jobs because you don't have lots of professional experience. Once you're in the interview, you will be able to demonstrate other transferable skills and sometimes just showing your willingness and desire to learn can work in your favour.
I'm really happy I chose to do a professional training placement at Surrey. This definitely prepared me for all of the work that applying to jobs would entail, and I think it would have been a lot harder for me to get a job after graduation without it.
Learn more about studying an English Literature degree at the University of Surrey.