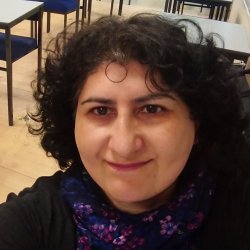 Shaan Ali
Shaan Ali shares her experience of studying for a masters part-time at Surrey, and what her day-to-day work involves as Senior Project Manager at Atkins, seconded to the M25 DBFO contract. 
Why did you study for your masters at Surrey?
I had been looking for a postgraduate degree while working as a Structures Team Leader at Surrey County Council, and attended a one-day 'Bridge Management' course run by Dr Boulent Imam of Surrey's School of Sustainability, Civil and Environmental Engineering. He suggested I explore the MSc Infrastructure Engineering and Management which I did. I was really inspired by the modules offered and felt the course was well aligned with my job.
What was it like to study part-time?
The part-time option allowed me to manage my full time job, home and study commitments. The time allocated to complete the MSc was generous – 60 months – but because I could choose the number of modules I'd undertake each semester, I successfully completed it in 36 months.
What did you most enjoy about your course?
Some of the best things were the lectures and discussions, the modules offered, and writing my dissertation – which was a fulfilling if challenging task. I also enjoyed meeting other students and being inspired by them, and learning about myself and my ability to manage conflicting priorities.
What are you doing now?
I'm employed by Atkins as a Senior Project Manager, seconded to M25 DBFO (Design, Build, Finance and Operate) – a 30-year contract with National Highways. This involves me managing a small team of project managers on projects that include pavement works, ground investigations, barrier schemes, gantry signs and structures.
What does your day-to-day work involve?
I allocate work to my team of project managers and support them, consult with other teams such as asset management and design, and also deal with commercial framework contracts. I identify opportunities for collaborative works and improvements on scheme scope, and I attend meetings where progress is shared and any changes justified with budget and technical teams.
How has your masters helped you in your current role?
My MSc has sparked a desire to keep learning. It has given me the confidence to challenge project scopes, whole life costs, and types of intervention, and to gain a better understanding of areas like environmental impact. As a result of my masters I appreciate even more the importance of considering the whole asset rather than just the sum of its parts.
Discover our courses in civil and environmental engineering including our MSc Infrastructure Engineering and Management.