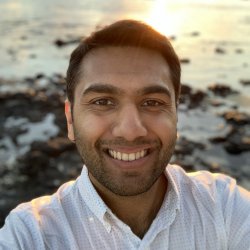 Yatin Vadhia
Alumni Yatin Vadhia, who studied for a computer science degree at Surrey, has gone on to pioneer innovative solutions in e-commerce, travel and FinTech, and is currently Senior Product Manager at TrueLayer - a financial infrastructure and Open Banking technology company in London.
I've always been interested in technology, computers and how things work. I have distinct memories of hearing about the launch of Napster on BBC News when I was a child, which made me realise how technology could change the world.
I chose to study at Surrey because of the University's great reputation, its leafy campus, which is only 35 minutes from London, strong Professional Training placement year programme and excellent employability statistics. When I came to an Open Day I knew that it was the place where I would fit in.
Studying on the BSc Computer Science course, I liked the variety of modules on offer and the fact that the academic staff were always very friendly and knowledgeable. One of the highlights of the course for me was the module on 'technical entrepreneurship' (now replaced with Entrepreneurship and Innovation: A Business Model Approach) which was effectively the UK equivalent of the renowned 'How to start a start-up' module taught at Stanford University in the US. This module was the basis of what I do today. I also benefited from a placement year at BAE Systems Detica (now BAE Systems Applied Intelligence) where I got to work on some incredibly interesting projects.
When I graduated from Surrey I started at Expedia Group/Hotels.com, working on an app which has over 60m users. This taught me a lot about how travel impacts people's lives, and the different ways that people can pay for travel. I also got to travel a lot myself, and attended some of the world's biggest technology conferences including Apple's WWDC 17 and Google I/O 2018. I then worked for Checkout.com and am now with TrueLayer, where I build payment experiences and software development kits that customers can embed into their apps.
"As a Senior Product Manager, I define what to build and why, leaving the 'how' to an engineering team, and the user interfaces to a design team. The high-level output of this is a Product RoadMap."
My work varies massively from one day to another but can include stakeholder management, market research, strategizing, prioritisation, hiring/interviewing, and people management to name a few areas!
Having a Computer Science degree gives you a great advantage as a Product Manager in my area. There will always be limits to today's technology, and software is constantly evolving, but the good news is that you never quite know what will be possible tomorrow.
When I look back at my time at Surrey, some of the best things were the cultural diversity on campus, the variety of local companies which offered unique opportunities – in sectors from defence to gaming – and the proximity to London and its start-up scene.
Discover our courses in computer science, including our BSc (Hons) Computer Science degree course.