Offer holder events
If you have an offer of a place at the University of Surrey, you may be invited to an offer holder event. This is a great opportunity to visit our beautiful campus, find out more about the programme you have applied for and to meet academics and current students.
Offer holder events for 2023 entry
Surrey's undergraduate offer holder events will run from November 2022 until April 2023 on campus, depending on the course you have applied for. 
You will be invited and provided with more information soon.
What happens during the event?
Our academics and current students will provide you with a flavour of what you can expect on your chosen degree course.
Each session will be different, but all sessions will give you the opportunity to explore your subject further and to meet academic staff and current students.
Before coming here I attended an Open Day as well as an Offer Holder Event. Visiting the University helped me make the choice as I could see where I would be studying and living - I knew that it was the right place for me to be.
Grace Buck, BSc International Event Management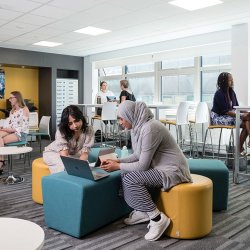 Contact us
If you have any questions about an offer holder event, please contact us at offerholderdays@surrey.ac.uk and we will be happy to help you.