Chemistry research courses
We are home to research breakthrough in low cost fingerprint drug testing and offer state-of-the-art facilities for NMR and mass spectrometry.
What we are researching
Take a look at our Centre for Petroleum and Surface Chemistry who is researching petroleum and surfaces and interfaces.
Studentships
Developing fingerprint sampling as a completely non-invasive approach for therapeutic drug monitoring
Funding information:
Enhanced EPSRC stipend (£19,062 per annum for 2022-23, with annual increments based on inflation) and fees covered. Funding also includes a research training and support grant of £3000 for the duration of the studentship.
Biodegradable polymers: New directions in controlled radical ring-opening polymerisation
Funding information:
This call is for self-funded students. Funding for exceptional candidates may be available through doctoral college studentships; please enquire.
Blade spray mass spectrometry for characterisation and quantification of mutagenic impurities in pharmaceutical reaction mixtures
Funding information:
Full stipend at the UKRI standard rate (£15,609 for 2021/22) with UK fees and basic training support grant.
Expert support
The Doctoral College supports the academic and professional development of postgraduate researchers to ensure our world-leading research continues to grow. There is also an extensive Researcher Development Programme run at university level.
What our students say
Read our student profiles to discover first-hand what it's like to study with us.
I love studying at Surrey. It's a beautiful environment to be in. My Department is very supportive and so is my supervisor.
Hannah Whitmore, PhD Chemistry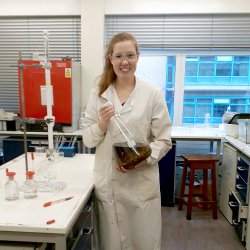 Facilities
Our facilities include a nuclear magnetic resonance (NMR) spectrometer, thermochemistry, powder X-ray diffraction and mass spectrometry to name a few.