Facilities
We have recently invested heavily in new laboratories and equipment for teaching and research. We proudly offer a wide range of advanced facilities for student and research use, including our Fluor pilot plant, analytical laboratories, NMR spectrometers, X-Ray diffractometers, and materials characterisation facilities.
Launching in 2023, our Energy Hub will underpin our research in green energy including battery technology, energy storage and green hydrogen.
Chemistry facilities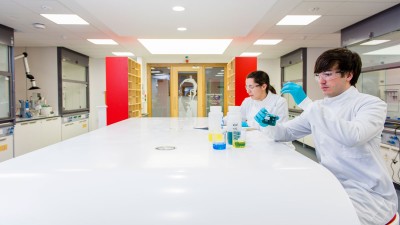 The Joseph Kenyon Laboratory is our main organic chemistry research laboratory.
The laboratory was designed to be as energy efficient as possible, with a walk in cold room replacing stand alone refrigerators and low air flow fume hoods to reduce the power demand.
The analytical chemistry laboratories have been recently refurbished to provide clean and bright working environments for our suite of analytical instruments.
Analysis and characterisation facilities
There are a number of instruments available for students, researchers and businesses to use. Samples will usually need to be submitted for analysis by a suitably experienced technician, but in some circumstances the staff or student will be able to do the work themselves.
Please contact Dr Daniel Driscoll at d.driscoll@surrey.ac.uk for further information.
Spectrometry
Gas analysis
GCMS
ICPMS
LCMS
LIBS
NMR
Spectroscopy
AES
Dielectric
FTIR
FT-RAMAN
UV-vis
Materials characterisation
Particle size
Pore size / shape
pXRD
Pycnometry
Rheometry
Surface area
Thermal analysis
XRF
Chemical engineering facilities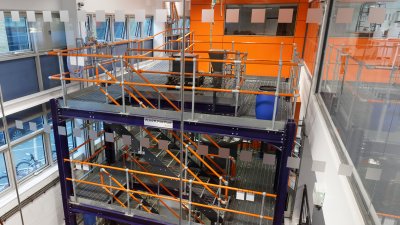 Fluor Pilot Plant
The Fluor Pilot Plant (PDF) is a fully operational chemical process plant that demonstrates all of the main functions of an industrial plant such as chemical reaction, solids handling, filtration, heat exchange and CO₂ capture by gas absorption. It utilises a safe whole process to produce very pure saline solution from a contaminated salt feed.
The plant has a high spec control room, situated on a mezzanine floor, which closely resembles control rooms found in industry, with a mimic display showing a range of data such as the operational status of the plant and real time measurements.