Facilities
We have recently invested heavily in new laboratories and equipment for teaching and research. We proudly offer a wide range of advanced facilities for student and research use, including our Fluor pilot plant, analytical laboratories, NMR spectrometers, X-Ray diffractometers, and materials characterisation facilities.
Launching in 2023, our Energy Hub will underpin our research in green energy including battery technology, energy storage and green hydrogen.
Chemistry facilities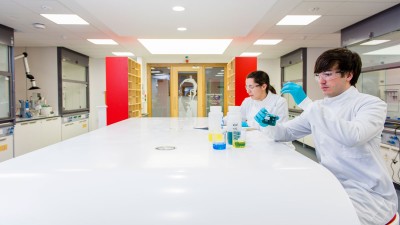 Our Joseph Kenyon Laboratory has had a revamp and now has over double the existing fume hood capacity and a larger IT facility. It implements new luminaires and has replaced fridges with an energy-efficient cold room.
It is a safe place to work, with the installation of daylight simulation and fire-resistant storage cupboards.
The laboratory's low energy consumption, carbon footprint and operational cost have further boosted its reputation as an innovative laboratory.
Available analytical instruments
There are a number of instruments we have available for students, researchers and businesses to use. There is usually a fee associated with use to cover running costs and consumables. Samples will usually need to be submitted for analysis by a suitably experienced technician, but in some circumstances the staff or student will be able to do the work themselves.
Please contact Dr Daniel Driscoll at d.driscoll@surrey.ac.uk for further information.
Nuclear magnetic resonance (NMR)
Bruker 300MHz NMR spectrometer
Bruker 500MHz NMR spectrometer.
X-Ray diffraction
PANalytical X'Pert Pro X-ray diffractometer
PANalytical X'Pert Powder X-ray diffractometer
Philips 1830 X-ray diffractometer.
Chromatography
Agilent 7890a-5975c GCMS
ThermoQuest Finnigan Voyager GCMS
Micromass GCT classic Time-of-Flight MS
HP 5890 GC (electron capture detector / nitrogen-phosphorus detector)
Agilent 6890n GC (Flame ionisation detector)
CSi 200 series GC (FID) x 2
ThermoFinnigan Surveyor HPLC (UV-vis / RI)
Varian 920-LC HPLC (UV-vis)
Varian 920-LC HPLC (UV-vis, ELSD)
Varian Polaris HPLC (UV-vis)
Dionex ICS5000 ion chromatograph.
Spectroscopy and elemental analysis
Applied Photophysics Chirascan (Circular dichroism)
Agilent Cary600 FTIR
Perkin Elmer System2000 FTIR
Perkin Elmer System2000 Raman FTIR
Perkin Elmer LS50B fluorimeter
Perkin Elmer Lambda 750 UV-vis
BioChrom Libra UV-vis
Jasco Polarimeter
Perkin Elmer AAnalyst 400 FAAS
Agilent200 series FAAS / GFAAS
Agilent 7700 ICPMS
Exeter Analytical CHN analyser.
Others
Linseis dilatometer
ESS ecosys-ρ Residual Gas Analyser.
Chemical engineering facilities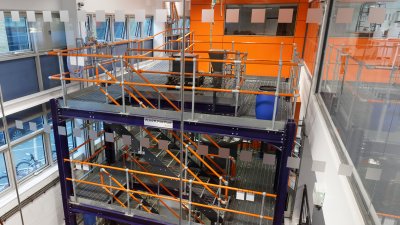 Fluor Pilot Plant
The Fluor Pilot Plant (PDF) is a fully operational chemical process plant that demonstrates all of the main functions of an industrial plant such as chemical reaction, solids handling, filtration, heat exchange and CO₂ capture by gas absorption. It utilises a safe whole process to produce very pure saline solution from a contaminated salt feed.
The plant has a high spec control room, situated on a mezzanine floor, which closely resembles control rooms found in industry, with a mimic display showing a range of data such as the operational status of the plant and real time measurements.