How we celebrate racial and ethnic diversity
Our university community is made up of outstanding contributions and collaborations from staff, students and alumni that come from a diverse range of ethnic and cultural backgrounds. Find out how our campus space celebrates these contributions and read our Race Equality blog for personal stories from our community. 
Illustrating our commitment to anti-racism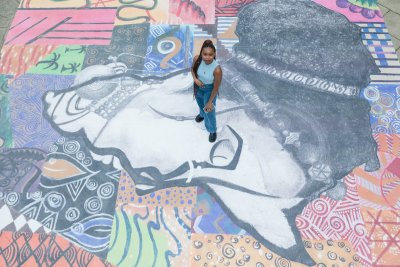 In 2020 we ran a competition inviting students to design a piece of floor art in support of anti-racism. Adaugo Yvonne Okenwa, a third-year Law student, won the competition with her design, The Pride of Heritage.
The idea of the artwork itself was also student-led, having been proposed by Languages student Sharna Piercy as a means of creating a permanent reminder of our commitment to anti-racism. It was undertaken as a joint initiative between the University and Students' Union.
By being brave and bringing my identity and heritage as a black woman into my art, I hope to educate, inspire and share my story to connect with others.
Adaugo Okenwa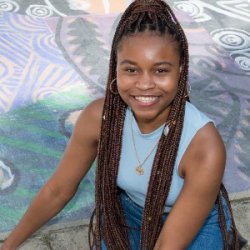 Black History Month at the University of Surrey
At Surrey, we seek to recognise and celebrate our Black students and staff. Black History Month is an opportunity to learn more about the history and achievements of Black people in our society and within our community.
Past events
Over the years we have been delighted to host a range of dynamic and engaging events. 
The SEED cookbook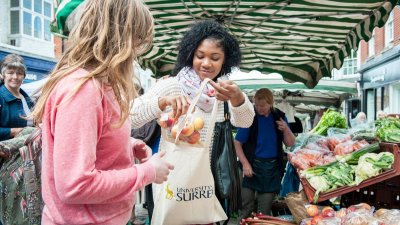 The Surrey Embracing Ethnic Diversity (SEED) network wants to share their culture with you. They'd love for you to try your hand at these global treats – from Bajan fishcakes to Bengali desserts.
Share how you get on by emailing your photos to edi@surrey.ac.uk. 
Download the SEED cookbook (PDF)
SEED Culture Week
As a celebration of the diversity within our Surrey Embraces Ethnic Diversity (SEED) Network and more widely at Surrey, the SEED network have launched SEED Culture Week. A number of activities, including campus walks, a cook-off and blog posts, are arranged to connect people from across the University community.
Student societies
For students, the Students' Union has a huge range of societies based on ethnic, religious and cultural affiliations. The societies join together each year to host the One World Gala, an extravaganza of performances by their cultural societies to take us all around the world from right here in Guildford.  This event showcases a range of traditional and contemporary music, dance, theatre and entertainment to students, staff and the local community. With elaborate choreography and stunning costumes: this event is a dazzling spectacle not to be missed.

Surrey race equality blog
Sharing staff, students and alumni perspectives and understanding of racism, and their process of learning and unlearning in moving towards an anti-racist society.