Black History Month at the University of Surrey
Every October, we celebrate Black History Month in the UK. This is an important annual celebration of the contributions that Black people have made and continue to make to the UK.
At Surrey, we seek to recognise and celebrate our Black students and staff; this is an opportunity to learn more about the history and achievements of Black people in our society and within our community.
Black History Month encourages us to focus on the achievements of Black people, to listen, champion and learn. This should not be limited to one month a year – but we recognise that, in a structurally racist society, there is a need to focus awareness in this way. We have a long way to go before we achieve equal recognition for people of all ethnic groups.
Black Excellence: Career Journeys, October 2021
The University of Surrey wanted to highlight the excellence and determination in our black staff, alumni and contacts in this inspiring and engaging event. The panel shared their experiences of succeeding in their fields, whilst discussing the impacts and challenges of being black and a minority in the workplace.
The Foundership programme
The annual Foundership programme funded by the University of Surrey's Student Enterprise and Santander, is a programme that will give entrepreneurs £1,000 – 3,000 in funding, mentorship and support to work full-time on their businesses this summer.
As part of the programme, SE offered Founderships specifically for Black founders (Black students and recent graduates [within 2 years] and those with mixed black heritage). Between 2009 and 2019, just 0.24% of venture capital went to teams of Black entrepreneurs, showing the barriers these businesses face in gaining financial support. 
We want to challenge the inequalities faced by Black founders, by helping to create a more inclusive business community on campus and for the future.
Spotlight 
Recent data shows that, despite some progress towards equality in the higher education (HE) sector, Black women benefit least from Athena Swan and Race Equality Charter activities.  This is evidenced by the persistent low representation of Black women in senior roles within UK universities, with only 25 Black women professors in the UK in 2020 (equating to about 0.1% of all UK professors).
Therefore, the HE sector must work much harder to address the obstacles for Black women in HE in the UK to overcome this woeful representation and support for Black women's HE careers.
At Surrey, we are introducing a number of initiatives to try to address this. We recognise, value, and want to highlight the fantastic contribution that Black women make to our community. Over the coming weeks, within Black History Month we will be showcasing brilliant Black female colleagues so that we can learn more about their career journeys and experiences.
Illustrating our commitment to anti-racism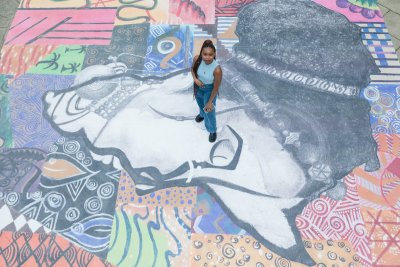 In 2020 we ran a competition inviting students to design a piece of floor art in support of anti-racism. Adaugo Yvonne Okenwa, a third-year Law student, won the competition with her design, The Pride of Heritage.
The idea of the artwork itself was also student-led, having been proposed by Languages student Sharna Piercy as a means of creating a permanent reminder of our commitment to anti-racism. It was undertaken as a joint initiative between the University and Students' Union.

Racial equality
At the University of Surrey, we value and celebrate the racial and ethnic diversity within our community and are committed to being an anti-racist institution.