---
news
Published:
22 October 2021
Spotlight on Dr Shurene Bishop Simon
Dr Shurene Bishop Simon is the Health and Biosafety Manager for the Faculty of Health and Medical Sciences (FHMS). Shurene leads on the faculty's strategy and provides expert advice to ensure compliance with the relevant health and safety and biosafety regulations, thus facilitating the delivery of world class teaching and research.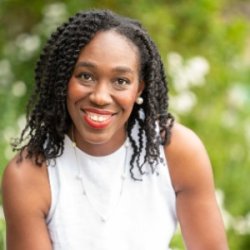 Dr Shurene Bishop Simon
Tell us about yourself, and your role at the University 
I am multifaceted and feel fulfilled when I have many irons in the fire and am achieving the goals that align with my missions and passions. I was personally driven to pursue my studies in the biological sciences and have a PhD in the field. I enjoy using my knowledge to help researchers be compliant with UK biosafety regulations. My other irons in the fire are, singing classically (since childhood I've been a performance artist and would tour Jamaican theatres with my performance group), running two businesses in my spare time (a property business and a biosafety consultancy business), and being a Trustee member for Urban Promise UK charity.
I joined the University recently as the Health and Biosafety Manager for the Faculty of Health and Medical Sciences (FHMS). This involves leading on strategy and providing expert advice so that the faculty is compliant with the relevant health and safety and biosafety regulations, thus facilitating the delivery of world class teaching and research.  
What steps did you take to be in your current post?
In addition to my PhD, I have a BSc in Biotechnology and a MSc in Molecular Biology, plus I worked in laboratories to grow my experience. Simply, putting myself out there and demonstrating that I am an expert in my field has also helped me to develop my confidence and skills. Practically this meant: having the courage to independently create consulting opportunities for major pharmaceutical, biotechnology and medical devices companies; and putting out original content.
My consultancy work enables me to learn more about the challenges that these companies face, find solutions to their problems and help other organisations to learn from these challenges and build resilience. The articles that I write are published in the London Bioscience Innovation Centre Newsletter.
Do you have any additional projects or sit on any boards? How does that enhance your skills at the university?
I am a member of FHMS Faculty Equality Diversity and Inclusion Committee which reports to the Faculty Executive Board. I am new to this committee (September 2021) so it's very early in the journey. I am hoping that it will enhance my sense checking skills. In my experience elsewhere, I have found that EDI committees have the best of intentions towards the community they seek to represent, however, they sometimes put through initiatives and programmes that are not of interest to those they are trying to serve. I hope to help the committee by providing the assurance that initiatives match needs.
My biggest challenge is glass ceilings... but I am resolved that I must always break through them.
Dr Shurene Bishop Simon
What challenges have you faced and how did you overcome them?
My biggest challenge is glass ceilings. They frustrate me, but I am resolved that I must always break through them. I do this by constant horizon scanning, making use of opportunities to serve, and creating my own opportunities. To give an example of this in my career, after I completed my PhD I decided to transition to biosafety. Whilst going through biosafety training at the Biotechnology and Biological Sciences Research Council (BBSRC), I was told that I would have to apply for a junior role, upon completion. However, I knew that my potential was greater so whilst at BBSRC I volunteered to be involved in additional projects that would demonstrate leadership qualities, knowing that the pay-off would come later.
I completed the BBSRC programme in February 2015 and by October 2015 I was employed as the Health and Safety Manager at the Medical Research Council. (Between the BBSRC and MRC, I worked briefly as a health and safety officer.) In essence, I overcame the challenge of being accepted for a senior position, by making use of opportunities that would demonstrate my ability to lead.   
When looking to pursue my PhD in the UK, I contacted a prestigious university to get clarity on how to apply and I was instantly told that my education at the University of the West Indies was not of a high enough standard. This person had no insight into my experience or qualifications but made a snap decision from a phone call. I did not let it stop me from applying in order to achieve my goals.
What are your top tips would you share for anyone wanting to work in your field?
Be willing to volunteer and go the extra mile. There is so much to learning and development to experience through offering your time, and those who receive your assistance benefit from your input, so it is a win-win situation. This is particularly important for someone who will be embarking on health and safety and biosafety as a new career path. The experience gained through volunteering will demonstrate to a prospective line manager that you are dedicated and keen on making the transition.
There are so many opportunities in your community, at work, and through professional membership organisations. Please do reach out to me if you would like to discuss ideas.
What's the best and worst advice you've ever been given?
Best advice: Believe in yourself.
Worst advice: I honestly can't remember; I don't tend to internalise it and give it valuable headspace.
Parting words
Believe in yourself and surround yourself with people who are a few steps ahead in terms of where you aspire to be. Doing so will increase your chances of success as you glean knowledge, learn from them, and put what you have learnt into practice. If believing in yourself is hard, work on this first with someone you can trust.