Racial equality
At the University of Surrey, we value and celebrate the racial and ethnic diversity within our community and are committed to being an anti-racist institution. Our goal is to promote equitable opportunities and outcomes for all our staff and students, and we have a zero tolerance to racism and discrimination of any kind. 
We are focusing heavily on improving race equality Surrey. We hold a bronze award (awarded in July 2022) and are focusing on the implementation of our action plan. We are working to develop our inclusive and supportive culture that celebrates all students and staff from all ethnic groups. See below for details of our staff and student community groups.
The University of Surrey is a welcoming and inclusive community focused on education, research and improving lives for a diverse society. Our students and staff come from more than 140 countries across the world, helping to create a multi-cultural, inclusive campus where all religious and ethnic groups are welcome. Respect for – and celebration of – the diversity of our University community is one of our core values. We condemn hatred and discrimination of any section of our society and, in line with the Equality Act 2010, we work to eliminate all discrimination, harassment and victimisation within our community.
The protection and promotion of freedom of expression is also an important part of our role as a higher education institution, and sharing ideas is crucial to learning and research – it allows students and staff to think critically, challenge and engage with different perspectives. Our commitment to freedom of speech is formally enshrined in our Code of Practice on Freedom of Speech. We actively support the legal duty we have to protect freedom of speech, while always remaining mindful of balancing that with our commitments to ensure our students and staff are protected from harm.
Our mission at the University of Surrey is to foster a safe and stimulating environment where all students and staff can study, work and live, knowing they will be respected and welcomed.
Ways to engage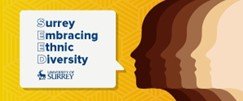 Surrey Embracing Ethnic Diversity (SEED) network for staff
Our staff network for Black, Asian and minority ethnic groups explores collective identity related to race and ethnicity and provides a network of social support in both a professional and personal capacity. The group also feeds into the Equality, Diversity and Inclusion forum and other communication networks to inform development and progress of our Race Equality and BAME Awarding Gap Action Plan. 
The group will also host events to discuss anti-racism and all members of staff are welcome to join in with these to create an Anti-Racism Action Plan. 
If you are a member of Surrey staff from a Black, Asian or any other minority ethnic group and would like to join this staff network, please email edi@surrey.ac.uk to be added to the mailing list.
Surrey Black Scholars programme 
The Surrey Black Scholars programme is a joint Doctoral College, EDI and Surrey Institute of Education initiative funded by Office for Students and Research England, that includes significant co-investment from the University, to provide Black British students with the resources, support and environment necessary to pursue rich and rewarding research careers after graduation. Through embedding sustainable initiatives that build a pipeline for Black students, enhance experience and provide a career boost, we are increasing the numbers of Black British students within our PGR community, while improving our inclusive culture and race equity at Surrey to benefit our whole postgraduate community. 
This multicomponent programme comprises a range of activities, including our 'Surrey Black Scholars' package that provides a fully-funded, enhanced PhD experience for Surrey Black Scholars (summer school, mentoring including reverse mentoring for Executive Board, placement opportunities, teaching qualifications, tailored career advice).
University of Surrey Researchers Anti-Racism Reading Group
The Anti-Racism Reading Group is a monthly discussion group aimed at getting PGRs and ECRs involved in the difficult questions of race, colonialism, and equality. It invites people from as many backgrounds as possible to attend, freely share their perspective, and take part in meaningful discussions about race in the modern world. To find out more visit Researcher Community area
Stay connected
15.07.22
Out of the night that covers meBlack as the pit from pole to pole,I thank whatever gods may beFor my...
15.07.22
The SEED network celebrated it's relaunch event on campus on 27th June 2022. Meeting members in person...