Photography and merchandise
You can take home your very own piece of Surrey with our extensive range of branded and personalised photography, merchandise and gifts.
Official photography
Our official portrait photography is provided by Ede & Ravenscroft Photography Ltd.
Portrait photography will be available from Ede & Ravenscroft Photography Ltd who will have studios on campus, which will be open from 8am until 6pm on the day of graduation. 
However, demand for photography is high so please allow ample time either before or after the ceremony. 
If you need to contact Ede & Ravenscroft regarding your order, please use their contact form.
Merchandise to remember your special day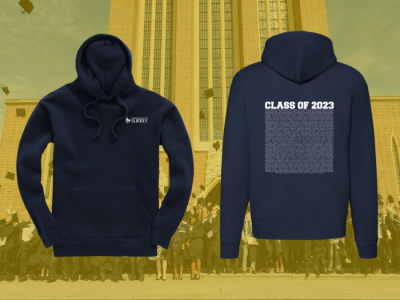 Surrey branded merchandise
Make sure you visit our pop-up merchandise shop in the Austin Pearce Building to see our full range of goodies, including hoodies, water bottles, stationery and more.
Alternatively, you can explore our full range and order online via our MySurrey Store.
Frames
Frames for photographs and certificates will be available to order from Ede & Ravenscroft Ltd.
Official yearbook 
The University has teamed up with GradFinale to produce your yearbook, which will give you the chance to reflect on the good times you had at Surrey and to share some of your fondest memories with your friends. 
We know the past couple of years have been different and challenging, and we hope this gives you a chance to focus on the friendships and memories you have made at Surrey. 
Creating your yearbook entry is really simple, all you need to do is fill in some questions about your time at Surrey and upload a photo. You can choose to receive a high quality digital or premium softback edition of your yearbook. 
Create your yearbook entry online now. 
The deadlines for submitting your entry is Friday 4 August 2023
Please note: yearbooks will be ready in Autumn 2023, and all yearbooks must be delivered by post.
If you have any queries, please contact GradFinale or our Alumni team. 
Ceremony photography and video clips
Our partners Stageclip will be producing personalised digital video clips for each graduand as a memento of your academic achievement. Each clip will capture the moment you are on the platform being presented with your degree award and will be available for you to download and post to your friends and family on social media shortly after the ceremony has finished.
Please follow our Surrey Alumni social media accounts where you will be notified as soon as this year's clips are available:
Ceremony audiences should note that ceremonies will be live streamed and photographs of each graduate crossing the stage will be taken. University staff and official photographers may be roaming around during your graduation day taking photographs which may be used for the University's social media channels, website and printed materials.
To purchase your photos in hard copy format please contact Ede & Ravenscroft.
Live streaming
All ceremonies will be live-streamed on the University's YouTube channel, meaning you can watch wherever you are in the world. The live stream can also be shared with any family and friends who may not be able to attend the celebration in person.