---
press release
Published:
03 September 2018
Arts and Social Sciences to benefit from extended research funding
Five schools and departments in the University of Surrey's Faculty of Arts and Social Sciences (FASS) are set to benefit from extended TECHNE research funding over the next five years.
TECHNE Doctoral Training Partnership recently secured support from the Arts and Humanities Research Council (AHRC) to receive block-grant funding for a further five years meaning the School of Literature and Languages, Guildford School of Acting, the Department of Music and Media, the School of Law and the Department of Politics can continue to put forward top-quality PhD applications to each year's competition.
TECHNE is funded by the AHRC and has approximately 50 AHRC scholarships to award each year across a range of arts and humanities disciplines. TECHNE brings together nine higher education institutions in London and the south-east including the University of Surrey, and scholarships offer students extensive training and opportunities to develop skills in innovation, critical thinking, risk taking, creativity and communication. Scholarships also include maintenance and fees for three years for full time students and five or six years for part time students. The extended funding will enable the consortium to continue this great work.
The University of Surrey was awarded eight TECHNE scholarships earlier in the year across a variety of specialisms within FASS, from Pre-Raphaelite art to deterministic memory. The university's Doctoral College supports academic and professional development of postgraduate and early career researchers and the team will work closely with new scholarship students.
Shane Dowle, Head of Studentships and Programmes in the Doctoral College, said: "As a founding member institution of TECHNE, we welcome the news that the AHRC will fund the expanded consortium. Access to prestigious AHRC studentships across a broader range of subjects will help to support growth in arts and humanities research at Surrey and attract the very best PhD students."
Each of the five schools and departments focuses on specific areas of study. For example, the Department of Music & Media specialises in Musicology, Composition, Performance, Creative Music Technology, Digital Media Arts, and Sound Recording while the School of Literature and Language focuses on English Literature, Creative Writing, Translation, Communications and Cultural Heritage.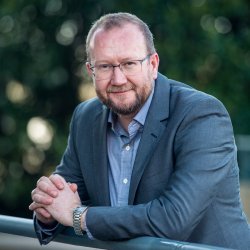 Professor Bran Nicol
Professor Bran Nicol, Head of the School of Literature and Languages, said: "This funding will allow us to continue to attract PhD students of the highest calibre to Surrey. Postgraduate researchers are central to the development of our research culture as they work on projects which complement those of our academics."
Professor Edward Harcourt, the AHRC's Director of Research, said: "The AHRC is delighted to announce its renewed commitment to the Doctoral Training Partnerships model. Our support for the next generation of arts and humanities researchers is critical to securing the future of the UK arts and humanities sector."
Find out more about TECHNE.
Read more about the variety of funding opportunities available to PhD candidates at the University of Surrey's Doctoral College.
Read more about the research themes within FASS.
Media Contacts
---
External Communications and PR team
Phone: +44 (0)1483 684380 / 688914 / 684378
Email: mediarelations@surrey.ac.uk
Out of hours: +44 (0)7773 479911