---
press release
Published:
10 November 2023
Ministerial visit marks launch of transformative AI training programme
Minister for Tech and the Digital Economy at the Department for Science, Innovation and Technology, Paul Scully MP, visited the University of Surrey on Tuesday 31 October to see cutting-edge artificial intelligence at work on the day the government announced a £118m package to boost the UK's AI skills base.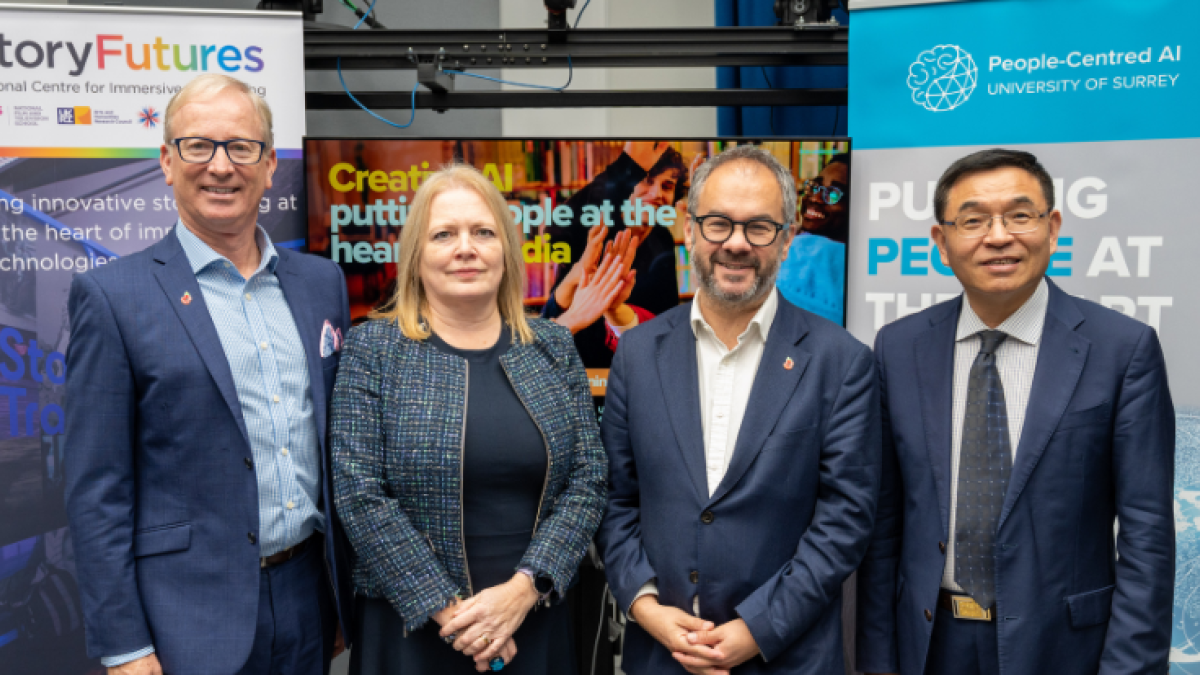 The visit coincided with an announcement that the University of Surrey and the StoryFutures unit at Royal Holloway, University of London, will be the home of a new UKRI Centre for Doctoral Training (CDT) in AI for Digital Media Inclusion. It also took place on the eve of the UK's AI Safety Summit, hosted by Prime Minister Rishi Sunak at Bletchley Park, which around 100 world leaders are expected to attend.
This CDT will combine Surrey's world-leading expertise in people-centred artificial intelligence (AI) with Royal Holloway's track record of innovation in next-generation digital media. We will establish a unique creative industry hub for high-quality training in responsible AI, inclusive design and creative skills, catalysing UK leadership in media inclusion for the whole population.
A unique training programme
The CDT will train a new generation of more than 80 industry-ready PhDs to lead the transformation to responsible AI-enabled inclusive media. This will forge a ground-breaking challenge-led model, co-designed and co-delivered with creative industry and end-user partners to remove significant real-world barriers to media inclusion.
Working in multi-disciplinary cohort teams to develop leadership, peer-learning and teamwork, we aim to deliver comprehensive multi-faceted AI solutions combining creative, technical, behavioural, linguistic, social and legal expertise, designed with inclusion for all at their heart.
Our PhD cohorts will benefit from a CDT that brings together two world-leading centres; Surrey's Institute for People-centred AI, number one in the UK, with over 35 years of pioneering research at the forefront of fundamental AI and machine learning and StoryFutures' experience of leading creative innovation in next-generation inclusive digital media at Royal Holloway.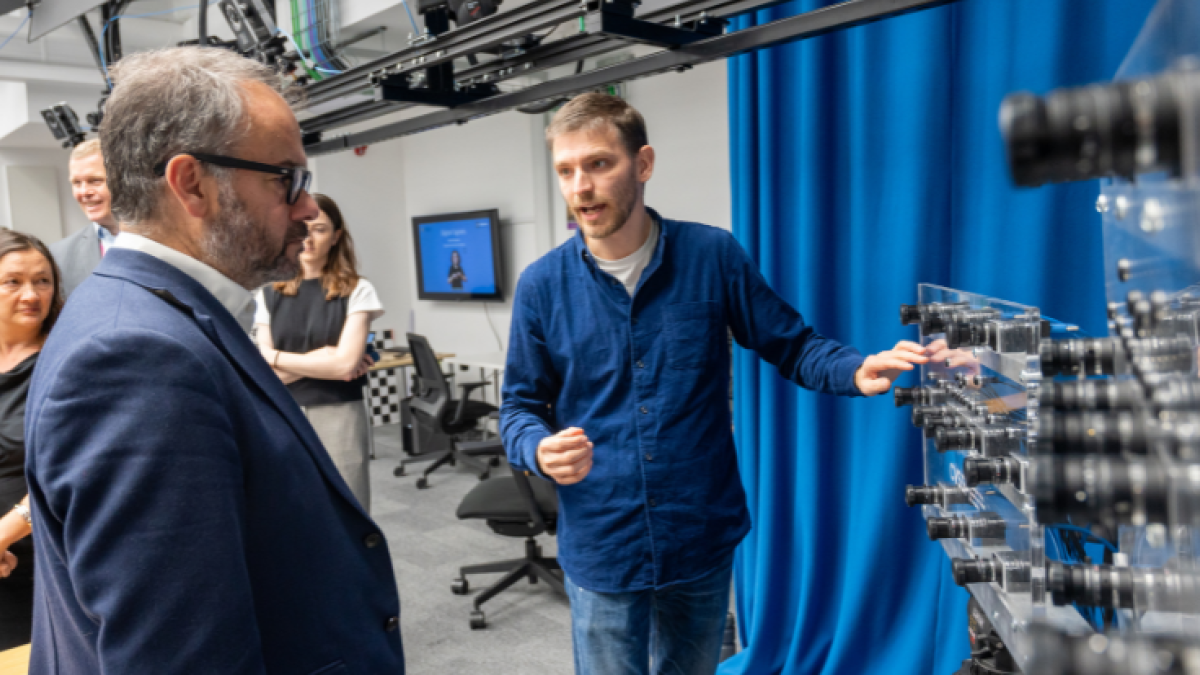 A partnership with the creative industry
AI-enabled inclusive media is a key driver for the creative industries to grow audience size, loyalty and revenue but this is severely limited by access to individuals with key AI and creative skills.
Creating digital media content and services that are inclusive for all is essential for societal equality and a business necessity to increase engagement for diverse audiences, the 'Purple pound' alone is valued at over £274bn per year in the UK.
Our challenge-led training will foster a responsible creative AI ecosystem partnering with 50+ organisations from big-tech corporations to creative SMEs and user organisations to address real-world inclusive media challenges and realise the impact on society and the UK economy.
Alongside our partners at the University of Surrey, this new Centre for Doctoral Training in AI will allow us to continue supporting the next generation of leaders within the UK's creative industries.

I am proud that the new CDT, as part of our StoryFutures Unit here at Royal Holloway, will build on our initiatives and programmes that create real-world change from world-leading research.

Through partnerships such as this, we can look to unlock inclusive research for the creative industries, and help produce transformative education and research which addresses the needs of today and the future.
Professor Julie Sanders, Vice-Chancellor and Principal of Royal Holloway
Safe, responsible AI innovation will deliver benefits right across the economy and society. The advances it could unlock for our creative industries are the perfect example of this.

With government backing, this centre will break down accessibility barriers in digital media by using AI to create personalised media experiences, meaning everyone can access information and entertainment regardless of age, background, or disabilities.
Paul Scully MP, Minister of State at the Department for Science, Innovation and Technology
Featured Academics
---
Media Contacts
---
External Communications and PR team
Phone: +44 (0)1483 684380 / 688914 / 684378
Email: mediarelations@surrey.ac.uk
Out of hours: +44 (0)7773 479911