---
news
Reflecting on Semester 1 in the Department of Music and Media - Caitlin
Music BMus student Caitlin Kirby reflects on Semester 1 this year, in the Department of Music and Media. Find out what she's been up to so far in her final year at Surrey, after returning from a Professional Training placement.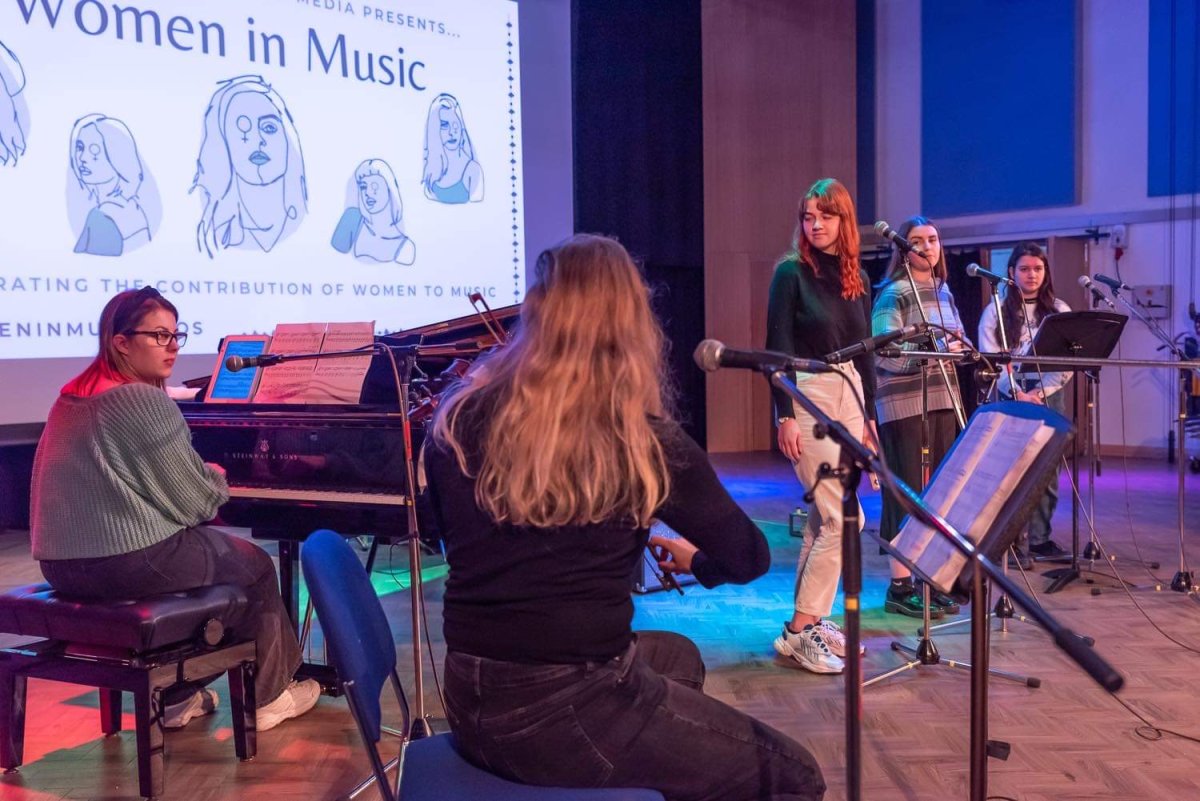 "After taking a year out to do a Professional Training placement, returning to university for my final year of the Music BMus course was a breath of fresh air! To get the most out my experience at Surrey, I decided I was going to fully immerse myself in university life and make the most of my last year as a student. By pushing myself to perform more, join new societies, visit towns and places outside of Guildford, and of course go on nights out, I have had an exciting and fulfilling first semester. I am so excited to see what semester two brings.
Performance
As part of my music degree, we are expected to perform outside of the course in addition to our assessments. Following a year of no live performances, I wanted to take up as many opportunities as possible to perform in the Department.
"One of the highlights during Semester 1 was the Women in Jazz event, where I performed the two jazz standards 'Blue Skies' and 'I Feel A Song Comin' On'. The event was full of amazing musicians and empowering conversations from women in the jazz industry."
Societies
This year, I decided to join the Musical Theatre Society, and I'm so glad I did! During Semester 1, we worked towards our Autumn Showcase, which involved dancing and singing popular songs from musicals, alongside a live band. It was such a great opportunity to perform live in front of an audience, as well as make new friends during all those hours of rehearsals. Being a part of this society has been a great addition to my university life, and I'm so excited to continue it with our production of Grease, happening in mid-March.
Going outside of Guildford
One of the best things about living in Guildford is how easy it is to commute to other areas in the South, especially London! It only takes 40 minutes to get to London Waterloo station. Visiting London for the day at Christmas was especially lovely due to the multiple Christmas markets and light displays. Throughout the first semester I really enjoyed planning day trips on the weekend to enjoy the surrounding area and have a nice break from studying.
Clubbing
A huge part of university life is being able to experience the nightlife, which is why my friends and I have made the effort to enjoy the on-campus clubs before we are no-longer students. One of my favourite events is Glitterbomb at Rubix, where famous drag queens from all over the globe come to visit and perform. I love this night out in particular since everyone's outfits are always impeccable."