---
press release
Surrey academic appointed to prestigious position within the NIHR
Following a highly competitive selection process, Professor Jill Maben, from the School of Health Sciences at the University of Surrey has been appointed a National Institute for Health Research (NIHR) Senior Investigator.  Senior Investigators are among the most preeminent and respected researchers funded by the NIHR, and the outstanding leaders of patient and people-based research within the research community.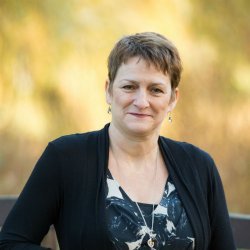 Jill Maben
As an NIHR senior investigator, which carries a four-year tenure, Professor Maben will receive funding to continue her research supporting NHS staff to care well for patients; findings from her research will help improve the future health of the healthcare workforce. Building on her extensive experience in Nursing and Health Services research, she will also help influence the future direction of the NIHR and their research.
As part of this prestigious accolade Professor Maben will also join the NIHR College alongside 200 other influential leaders in healthcare across the country, where she will act as an ambassador for the NIHR, supporting training and development and helping to develop and retain the UK's highly skilled nursing and health research workforce.
Professor Maben leads the Workforce, Organisation and Well-being research theme at Surrey and has a reputation for undertaking impactful research. During the ongoing Covid-19 pandemic, she played a pivotal role in better understanding the psychological wellbeing of NHS staff and in collaboration with colleagues from the University of Southampton, and University of Surrey she developed guidance to support nurses' psychological well-being during Covid-19 crisis.
Working with other senior investigators will give me the opportunity to help shape the research agenda of the NIHR.
Jill Maben
Professor Maben said: "I am really delighted and honoured to have been appointed as an NIHR senior investigator. This will enable me to support the development of others, while continuing my research in areas that could benefit nursing and the wider health sector. Working with other senior investigators will give me the opportunity to help shape the research agenda of the NIHR."
Professor Melaine Coward, Head of the School of Health Sciences at the University of Surrey, said: "Congratulations to Jill on this wonderful achievement! This accolade is testament to her hard work and dedication in the health sector. This is not the first time her work has been recognised at a very high level: her OBE and her recognition by the Health Service Journal as one of the 'Most Inspirational Women in Healthcare' make us all very proud that she is a member of our School, and we look forward to seeing what she achieves next."
Featured Academics
---
Media Contacts
---
Natasha Meredith
Media Officer (Faculty of Health and Medical Sciences)
Phone: +44 (0)1483 684380
External Communications and PR team
Phone: +44 (0)1483 684380 / 688914 / 684378
Email: mediarelations@surrey.ac.uk
Out of hours: +44 (0)7773 479911