---
news
Published:
14 December 2020
Surrey announce international collaboration in Artificial Intelligence
Credit: University of Surrey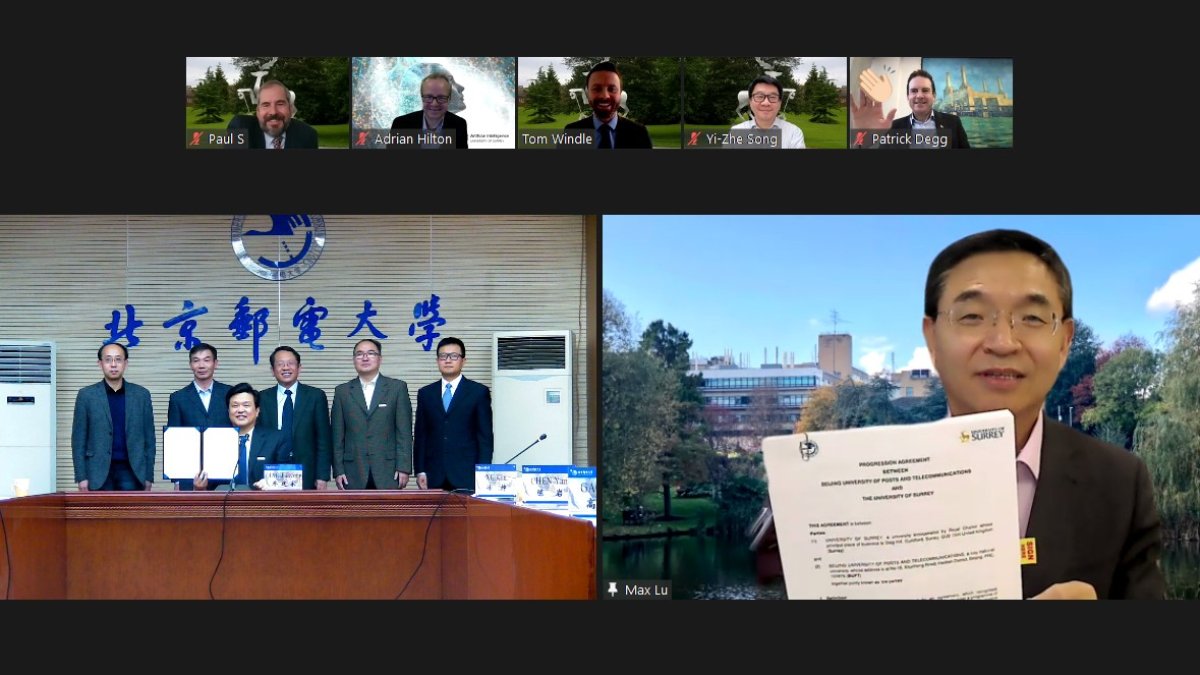 There are already productive research links between Surrey and BUPT, with 47 publications co-authored by Surrey and BUPT collaborators since 2015 in fields of mutual strength, such as Artificial Intelligence (AI), Computer Vision, Computer Science, Communications Technologies and Signal Processing. These publications have an average field-weighted citation impact of 4.01 – higher than individual averages for either partner, showing that both institutions increase their impact when they work together.
International partnership
The new Surrey-BUPT partnership is built around the leading role each institution plays in AI research, both domestically and on the international stage.
Surrey's Centre for Vision, Speech and Signal Processing (CVSSP) has more than 30 years' experience in AI research, and is ranked No.1 in the UK for Computer Vision research according to csrankings. CVSSP has also recently established the new AI@Surrey initiative.
With BUPT also establishing its School of AI, both institutions are ideally placed to work together on the future of AI research and innovation.
Collaborative agreements
On Wednesday 9 December 2020, Professor Max Lu, President and Vice-Chancellor at the University of Surrey, and Professor Qiao Jianyong, President of BUPT, co-chaired a virtual meeting with senior colleagues from both universities. This culminated in the signing of three new collaborative agreements:
* A general Memorandum of Understanding (MoU) between BUPT and the University of Surrey's Faculty of Engineering and Physical Sciences
* An MoU regarding a Joint Research Laboratory in AI
* A Progression Agreement providing a pathway for BUPT undergraduates to the new MSc in AI at the University of Surrey.
Multi-faceted future
After the ceremony, a delighted Professor Max Lu commented: "It was a great pleasure to join Professor Qiao and colleagues in supporting this multi-faceted collaboration with BUPT in areas of strength of both universities.
"AI@Surrey is a priority for us. Partnering with world-leading academics at BUPT in AI research and education will catalyse beneficial outcomes to society in the years to come."
Professor Adrian Hilton, Director of CVSSP, added: " This is an excellent opportunity building on the international leadership in AI research and training from BUPT and University of Surrey to establish a world-class Joint Research Laboratory and MSc in AI."
For more information on this partnership or general queries please contact intpartnerships@surrey.ac.uk