---
press release
Published:
21 December 2022
Surrey Professor receives Distinguished Fellow award
A renowned machine-learning expert dedicated to creating systems that improve the lives of the Deaf and hard-of-hearing community's lives has been named Distinguished Fellow of the British Machine Vision Association (BMVA) 2022 at the annual conference.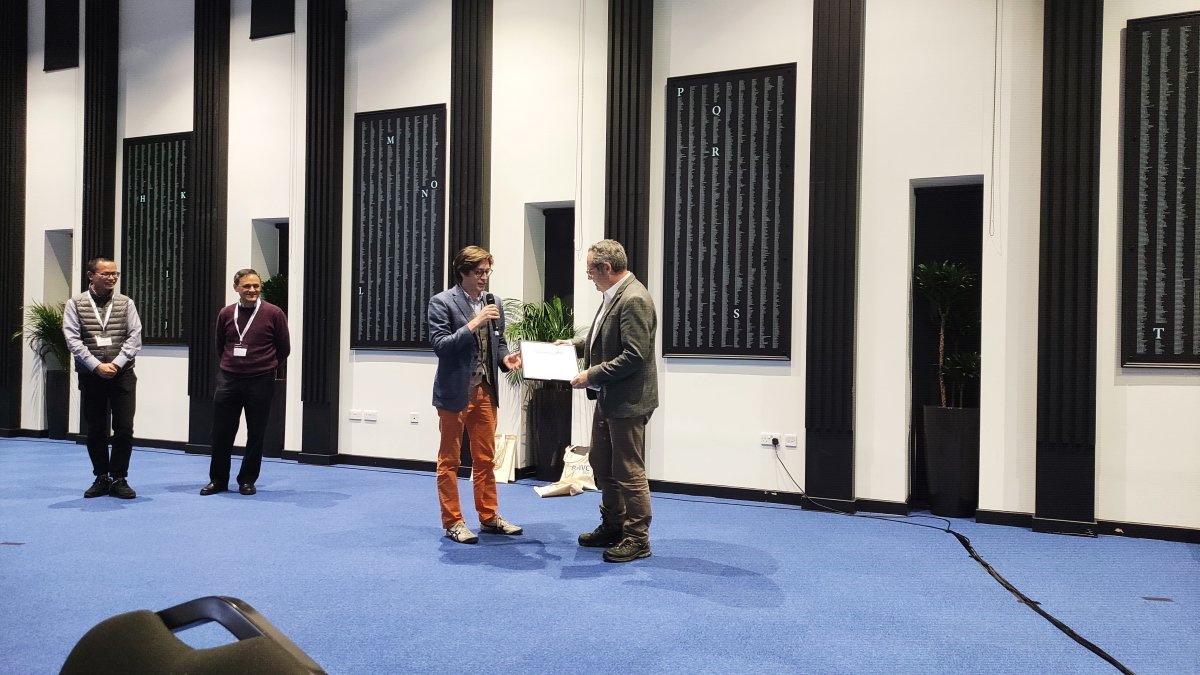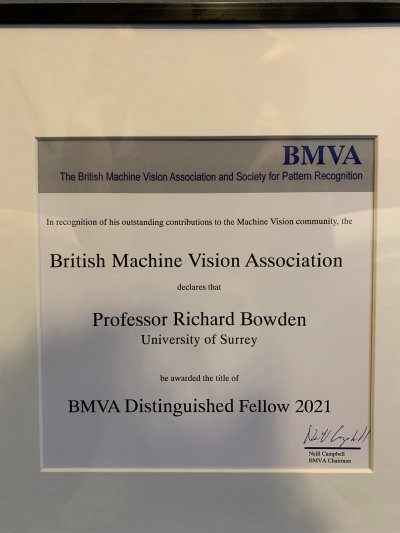 Professor Richard Bowden has won this award after almost three decades of research in this field. His specialist areas include sign and gesture recognition, deep learning, cognitive robotics, and machine perception, among others.
Most recently, a University of Surrey spin-out company Signapse AI, which Professor Richard Bowden helped set up as Chief Research Officer, won the Startup of the Year award at the Surrey Business Awards.
Signapse AI wants to help break barriers experienced by the Deaf community by using artificial intelligence (AI) to provide reliable, sign language versions of audio content, indistinguishable from human sign language interpretation.
Professor Adrian Hilton, Director of the Centre for Vision, Speech and Signal Processing (CVSSP) at the University of Surrey, said:
"It is amazing news to hear that one of our own has been recognised with the BMVA Distinguished Fellow award. It is essential that future AI is inclusive and empowers people by improving communication, access to trusted information and decision-making. Signapse AI builds on world-leading research led by Professor Bowden in  CVSSP. The centre has over three decades of experience pioneering ground-breaking advances in AI for the benefit of society."  
Professor Richard Bowden, who leads the Cognitive Vision Group at CVSSP, commented:
"It is a lovely surprise and a real honour to become only the 21st person to receive this award, and to join such an illustrious list of BMVA Distinguished Fellows. Thank you to the BMVA for recognising me in this way, and I look forward to many future years of research in the field."
Professor Bowden is the fourth member of CVSSP to be honoured with the prestigious BMVA Distinguished Fellowship, others are Professor Josef Kittler (2002), Professor Maria Petrou, and Professor John Illingworth. See all BMVA distinguished fellows.
 
Notes to editors
The University of Surrey's Centre for Vision, Speech and Signal Processing (CVSSP) is an internationally recognised leader in audio-visual machine perception research. With a diverse community of more than 150 researchers, it is one of the largest audio and vision research groups in the UK. Research in the Centre has led to award-winning spin-out companies in the biometric, communication, medical and creative industries. Find out more at Centre for Vision, Speech and Signal Processing.
Media Contacts
---
External Communications and PR team
Phone: +44 (0)1483 684380 / 688914 / 684378
Email: mediarelations@surrey.ac.uk
Out of hours: +44 (0)7773 479911