---
news
Published:
10 December 2019
Vet school tops Innovation Awards
The School of Veterinary Medicine at the University of Surrey swept the board at this year's Guildford Innovation Awards. The annual awards celebrate inspirational innovation across a broad spectrum of sectors in the local area- building upon the theme of supporting Science, Technology, Engineering and Maths (STEM) subjects.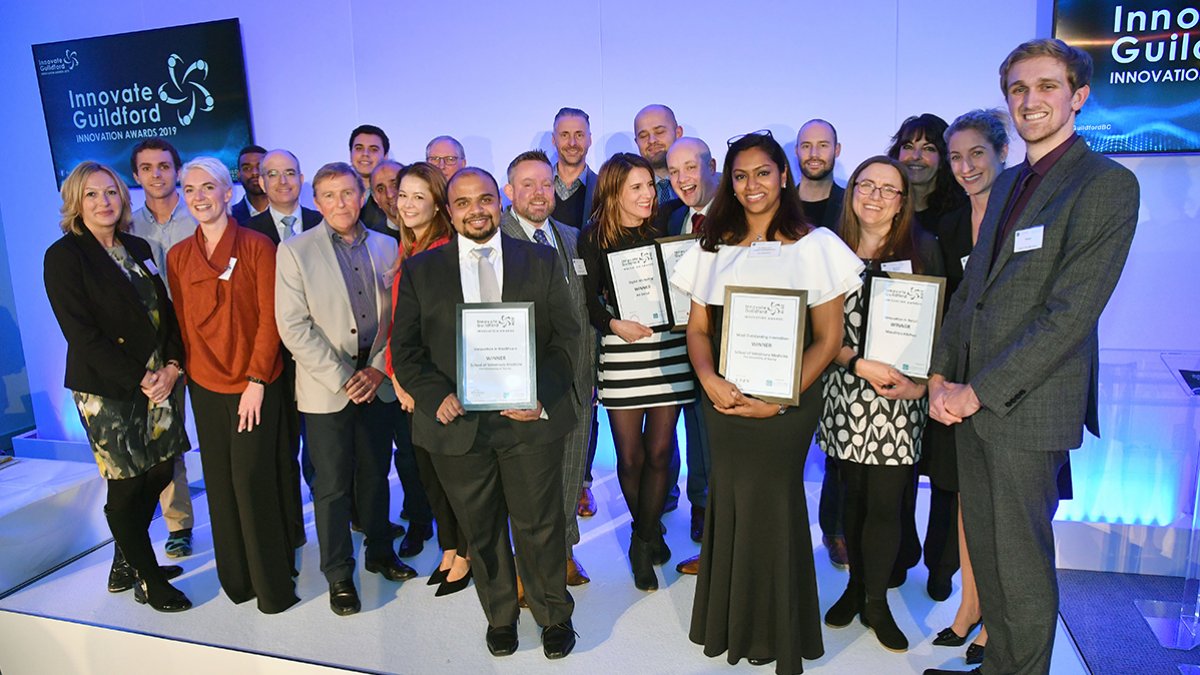 Winning the 'Innovation in Healthcare' award was Dr Kamalan Jeevaratnam and Dr Vadim Aleexenko from the School of Veterinary Medicine at the University of Surrey for their research project 'Computational approaches for risk predictions of cardiac rhythm abnormalities in the equine athlete', funded by the Petplan Charitable Trust. This pioneering project involves the use of computational algorithms for the analysis of electrocardiograms taken from horses. This state of the art technique could be integrated in digital ECG recording devices in veterinary practice and has the potential to cross over into human health for the detection of rhythm abnormalities in at risk human patients.
The awards also recognised the work of Dr Sharmini Julita Paramasivam who scooped the 'Most Outstanding Innovation' for her novel 'Animal Neighbours Project' which uses research and awareness to stop conflict between animals and humans living in close proximity to each other. The project works locally in Surrey and internationally in Malaysia. As well as examining the interactions between humans and animals, this innovative project also provides vital insight into zoonotic diseases, a major worldwide threat to human health at ecotourism sites.
Professor Chris Proudman, Head of the School of Veterinary Medicine at the University of Surrey, said: "I am delighted that the work of Kamalan and Sharmini has been recognised in this way.
"Innovation is at the heart of everything we do here at Surrey, from our novel teaching model, to tackling the rise of antimicrobial resistance and zoonotic diseases - we are making strides in improving animal health which will have significant benefit to human health." 
Chris Burchell, Local Economy Manager at Guildford Borough Council says: "The Innovation Awards celebrate the best and brightest that our borough has to offer. Congratulations to this year's winners and all who entered. I look forward to following the inspirational future developments in all of these fields and the positive impact they'll have in our borough and beyond."
Featured Academics
---
Related content
---