---
news
Published:
30 October 2022
What you need to know about studying English literature and creative writing
Studying literature is so much more than just reading. It's an immersive experience, where the power of words is the gateway to understanding what it means to be human. By analysing the ideas articulated in literature, our students develop excellent interpretive and communication skills, making them highly employable.
"Our broad learning experience encompasses contact with published specialists and creative writers and offers workshops and placement opportunities. Surrey students are taught by creative writers and literary critics – and learn to think like writers and critics, developing the creative and analytical skills that are highly valued by a wide range of employers."

Patricia Pulham, Head of the School of Literature and Languages
"The academic staff and facilities at Surrey are extremely helpful! After immersing myself in lectures and seminars, I realised that academic staff are passionate about the subject and want you to achieve your best potential."

Tyrone (literature student)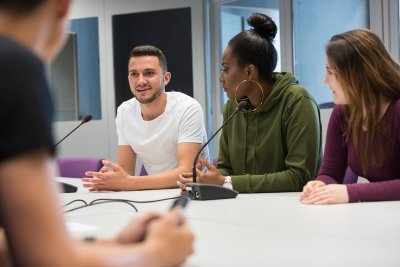 Our teaching is immersive
Literature isn't just about reading, it's about diving into the creative process, the words, the context. Our students are taught by published academics and authors, who give insight into the way words are curated to emote, create a scene and provoke thought. We also have strong interaction with other disciplines – history, sociology, film – adding depth to our learning experience.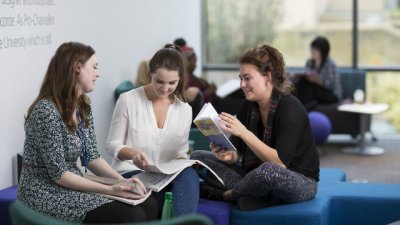 We nurture and mentor
We take pride in our supportive environment, including offering a Peer Assisted Writing Scheme which pairs our first- and second-year students with final-year writing mentors. With our academics bringing experience from the writing, publishing and research industries, our students gain real understanding of the writing process.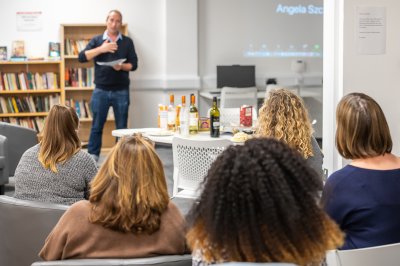 We connect and network
We regularly host guest speakers, research seminars and talks by major and new writers. Each year we appoint a Poet in Residence – currently Karinjit Sandu – and also have a Distinguished Writer in Residence, acclaimed author and Man Booker Prize-nominated Neel Mukherjee. All of our academics are published authors, poets and researchers, and our students benefit from interaction across the writing and publishing industries.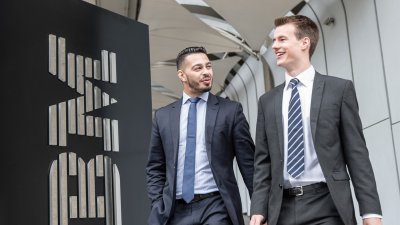 We focus on future careers
We want our graduates to fulfil their career ambitions. Our acclaimed placement year is built into the curriculum, giving students the chance to gain employability skills while working. In the past, placement students have worked at organisations as varied as Toyota, Sony, Visit Britain and Warner Brothers, and spent their time in Los Angeles and Australia.
We are embedded in the wider cultural environment
Our campus in Guildford is ideally located for a range of cultural experiences, and the bright lights of London are just 35 minutes away by train. We host the Surrey New Writers Festival each year which features an incredible line up of new talent sharing their work and experience with students and the public, plus the Surrey Poetry Festival. The Guildford Book Festival is run in partnership with the School of Literature and Languages, and galleries and theatres in the town centre are all within walking distance of campus.