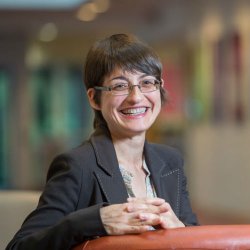 Marga Menéndez-López
---
Senior Teaching Fellow in Spanish
About
Biography
Marga joined the University of Surrey in 2004. She is the Senior Professional Training Tutor for the School of English & Languages and teaches linguistics, sociolinguistics, translation and Spanish language in the UG languages degrees. She studied Spanish Philology and general linguistics at the University of Oviedo, Spain and sociolinguistics at the University of Queen Mary. Marga is a Fellow of the Higher Education Academy.
Research interests
UG student transitions to placement, development of on-line materials, languages at HE.
Teaching
LAN1001 Skills for Language Specialists
LIN2005 Introduction to Sociolinguistics
SPA3022 Advanced Oral and Written Skills in Spanish
SPA1053 Translation English-Spanish I
SPA3018 Spanish Sociolinguistics
SPA3017 Spanish Dissertation and Oral Exam
Departmental duties
Senior Professional Training Tutor and Erasmus Coordinator for the School of English & Languages
Websites
Course on Spanish Pronunciation and Phonetics, University of Surrey. Available at:
http://www.surrey.ac.uk/englishandlanguages/languages_study_area/language_resources/spanish/spanish_phonetics_english/index.htm
University roles and responsibilities
Subject Leader for Modern Languages

Programme Director BSc Business Management and a language
Publications
Menendez-Lopez, Marga and Marley, Dawn (2011). 'Apprentissage auto-réflexif des langues à l'Université du Surrey'. In Redouane, Rabia (ed). Regards croisés sur l'enseignement des langues étrangères. Paris: L'Harmattan, pp 51-66.
Menendez-Lopez, M. (2009). 'Assessment and feedback in an oral presentations skills module'. Report for the Teaching with New Technologies (TeNT) Award, University of Surrey. Available here
Menendez-Lopez, M. (2007). Update of a case study on LTS' e-learning history as a contribution to John Klapper's 2nd edition of the book Understanding and Developing Good Practice. Language Teaching in Higher Education, CILT.
Menendez-Lopez, M. (2007). 'Building on the L20 experience: designing Reusable Learning Objects (RLOs) as structured question banks', case study in the final report 2007 of the JISC-funded project L20 Sharing Language Learning Objects, led by the University of Southampton. Available here.