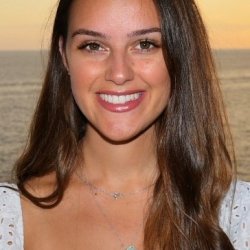 Alice Kimber
"The opportunity to do a Professional Training placement was a huge part of why I chose to come to Surrey, particularly because it's relatively unique for a BA (Hons) English Literature course." 
Course
English Literature BA (Hons)
Placement company
Toyota GB
"I attended both an Open Day and an applicant day during the university application process. I knew from the Open Day alone that I wanted to come to Surrey. The opportunity to do a Professional Training placement was a huge part of why I chose to come to Surrey, particularly because it's relatively unique for a BA (Hons) English Literature course. There was a presentation on the day about the industries that previous students had gone into for their placements and I was so excited by the thought of the different opportunities, some of which I'd never even considered.
I chose to study English literature because I've always enjoyed it and I liked the look of the modules at Surrey. Studying the subject appealed to me because at the time of applying to universities and then starting the course, I wasn't sure about my future career path. English literature equips you with a wide range of skills which are applicable to many different fields and job roles, and this is reflected in the variety of placements and careers that students and graduates go onto pursue.
"There are many challenging but enjoyable modules on the course. Some of my favourites have been, Contemporary Literature: Gender and Sexuality, Understanding Poetry, The Theatre and The Novel and Fin-De-Siecle Literature." 
The modules and assignments we are assessed by are extremely varied in their content. Over the past few years, I haven't just been assessed on exams and essays, I've also worked on blog posts, close readings and newspaper articles. The staff in the School of Literature and Languages are great. All the lecturers have open office hours when students can drop in, and we have a new common room with tables and sofas which is nice as it can be a more relaxed study space than the Library.
Whether it's for the love of a sport or activity, being a member of the committee or just for the social side of things, there's an endless list of clubs and societies you can join at Surrey.  I spent a lot of time with the Surrey Snowsports society, including two ski trips which were amazing and definitely a highlight of my university experience. I was also the Lifestyle Editor for the University magazine, The Stag, which is a good thing to be able to talk about in interviews for placement roles.
You also get lots of work opportunities at Surrey. For example, I was a Student Life Mentor in my second year which involves mentoring first year students living in University accommodation. It was a really rewarding role and I got to meet and help so many different people. I'm now currently a volunteering coach for second year students in pursuit of Professional Training placements.
I spent my Professional Training Year at Toyota GB in the PR and social media department. My role there involved being a social media student for both Toyota and Lexus which included a wide range of responsibilities across all three sections of the team: content, insights and community.
"A highlight of the year was organising and hosting an influencer event across a long weekend in Mallorca." 
At the end of the year I was offered the role of part-time community manager, which I decided to take up alongside my final year studies.
On a personal level, my biggest achievement from my time at Surrey has been completing a Professional Training Year and the opportunities it's given me since. However, my roles as a Student Life Mentor and a Professional Training Year Coach have also been really rewarding because I've been able to make a difference to other students' experiences.
After (hopefully!) graduating, I will continue my work for Toyota and Lexus throughout the summer before going to live in Australia for six months in September. On my return, I hope to pursue a career down the avenue of social media, social marketing or PR." 
Discover more about our English literature and creative writing courses, including our BA (Hons) English Literature.