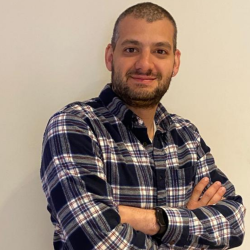 Cagri Kececi
"The course is well structured, and the modules are taught by experienced research academics who are actively involved in corporate finance and corporate governance."
Course
International Corporate Finance MSc
Choosing my course
Before I made my decision to choose to study the International Corporate Finance MSc at the University of Surrey, I spent lots of time researching and the unique course content left me feeling optimistic. I have an Executive MBA degree and over 12 years of experience in the financial sector and this course seemed like a good next step to broaden and refine my knowledge, I am happy to say, I have not been disappointed at all.
"This program has provided a great degree of academic and practical knowledge that will help me soon in a highly competitive financial sector."
On the other hand, the course covers almost 100% CFA content, therefore graduated students will feel the difference while preparing for CFA exams.
Even if services, products, and approaches to problems are changing in the finance sector in time, the only reality that will not be changed is that finance will always be the top topic in the business world. So, any player in the finance sector requires to be updated to be competitive. Competition is my passion, and that's why I am here.
I had access to software such as Bloomberg, STATA, and MATLAB which was a real benefit of the course. The Bloomberg Terminals provided a great opportunity to engage with the course material, interact with other students, and make learning fun and exciting. I could follow markets continuously and prepare an industry-style assignment as part of the Equity Investment Analysis module. During our assignment preparation, we had the opportunity to spend long hours using the Bloomberg Terminals and interact with other students and lecturers, discussing market trends and other current topics in the financial world.
"This provided an exciting spin to the course, as you learn outside of the traditional classroom environment."
Reflecting on my time 
One of my proudest achievements during my studies was winning the Real Trading competition during an industry visit. This virtual day experience, which was organised by our Programme Director, Dr Christos Mavis, involved students from different postgraduate finance programs in the business school who eventually end up competing against each other in building the most profitable portfolio. This competition provided me with an excellent opportunity to engage and interact with industry experts and see how it is to be a trader for a day. On one hand, we needed to manage time pressures, on the other hand, we had to compile a successful portfolio. This experience has provided me with invaluable insight into how markets and trading work in practice.
Learning during a pandemic
I had concerns about enrolling in the course during the Covid-19 pandemic. However, I can honestly say the adjustments and improvements to adapt the changing environment of the education system were well reasoned and functional. I had never experienced any problem while studying, thanks to the well-structured timetable, robust infrastructure, software tools and devoted lecturers.
Why Surrey?
I strongly recommend the International Corporate Finance course at Surrey Business School.
"The course is well structured, and the modules are taught by experienced research academics who are actively involved in corporate finance and corporate governance."
Guildford is a picturesque town and very student-friendly. The town also has easy access to London which is another considerable advantage of studying at the University of Surrey.
Find out more about postgraduate study at Surrey Business School