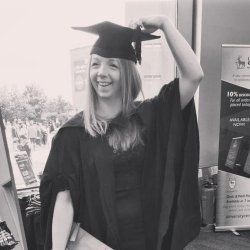 Emily Stanton
"Experience is everything in the events industry. If you get the chance to volunteer at an event, do it. If you're asked to represent your cohort in some way, say yes. And if you're given the opportunity to apply for an event, a scholarship or work experience in general, take it."
Course
International Events Management BSc (Hons)
"When the University of Surrey launched its first undergraduate degree programme for International Events Management it coincidentally came at a time in my life where I'd had some career uncertainty, but knew that my passion lay with events. You could call it fate, but I knew that Surrey would be leading the way with the programme quality, so it was the first of many opportunities that I couldn't turn down.
There was a healthy balance between practical and written work and the lecturers were all incredibly passionate about their subjects. There was also a great mix of lecturers who had practical experience and professors who were well-practised in academia.
 "Surrey provides its students with numerous opportunities to get involved and the University cares so much about its students and campus life."
The highlight of my time at Surrey was being nominated to put in an application for a scholarship to attend the ICCA Congress in Dubai, and it paid off - I got to attend the 57th ICCA Congress, in one of the most fascinating and futuristic places in the world, with the world's leading meeting and event industry professionals. It was also at this point that I realised my true passion for events and that I had to be part of the industry.
After graduating, I secured a role as an Events and Marketing Manager at the Surrey Chambers of Commerce. This was a great stepping stone because it allowed me to develop skills that I'd cultivated throughout my course. However, I quickly realised that my role provided limited career progression, and I knew that I wanted to be part of something bigger and I was approached by MCI UK with a newly developed role as a Community Manager. I love the people that I work with, the events I get to be a part of, the relationships I build, and the fact that I advise, I create, I help, and I matter.
I wouldn't have discovered MCI if I hadn't gone to ICCA Congress through the University of Surrey and met representatives there. And I wouldn't have gone to the congress if my course leader hadn't recognised my potential, and thus hadn't put me forward for the opportunity.
I made sure I took a Mentoring and Professional Development module in my final year, which enabled me to work alongside an industry professional and carry out a mini dissertation that focused on how to help them solve a practical, real-life issue.
Experience is everything in the events industry. If you get the chance to volunteer at an event, do it. If you're asked to represent your cohort in some way, say yes. And if you're given the opportunity to apply for an event, a scholarship or work experience in general, take it."
Discover our programmes in hospitality, events, tourism and transport, including our BSc (Hons) International Event Management course.